Unpaid Tolls Cost the State and Could Cost You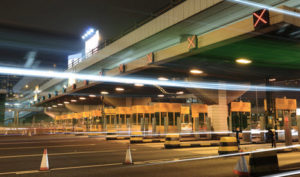 I-87 runs through Rockland County New York and if you've traveled on it, then you know that it's not free. The New York Thruway boasts 58 toll plazas and over the last 5 years, reports show that uncollected tolls have significantly increased on the 570-mile stretch of roadway. Uncollected tolls for only one year totaled approximately $2.5 million in lost revenue for the Thruway Authority, who is already reportedly low on funds. Between the years of 2010 and 2014, uncollected tolls amounted to nearly $11 million.
Needless to say, lawmakers have felt the need to intervene and recently, penalties for toll violations have been ramped up. In January of 2016, Governor Cuomo allowed the Department of Motor Vehicles (DMV) the authority to suspend motorist's registration if they fail to pay five tolls, the fees and other charges within 18 months of incurring the cost.

Penalties for Toll Violations: The DMV Can Suspend your Registration

If you fail to pay the tolls as described above the state DMV can allow the tolling authority to choose to suspend your registration. Before they can suspend your registration, however, they must send you notice of such. Once you get the notice, if you do not pay the tolls or seek to have the tolls dismissed or transferred, then you may still be subject to the penalty.
You may choose to request a hearing before the DMV to determine if the tolling authority properly notified you of your violations, but at this hearing you are not allowed to dispute whether or not you actually improperly evaded the tolls.

Do you Need an Attorney for Unpaid Tolls?

It may not seem necessary to hire an attorney for failure to pay vehicle tolls, but having your car registration suspended is a serious matter and can prevent you from being able to get to work, being able to pick up your kids after school or simply inhibit your ability to even get to the grocery store.
Under New York law, you must carry current registration of your vehicle and furnish it to any law enforcement officer who requests it. If you are found to be driving an unregistered vehicle, you could face license suspension. Accordingly, even though unpaid tolls may seem like no big deal, traffic violations can snowball and before you know it, you may be facing revocation of your driver's license. It is always best to contact an experienced New York traffic attorney right away for any threat of suspended registration.
Call your Rockland County Traffic Attorney Today
Attorney Phillip J. Murphy, knows that any sort of criminal accusation can be devastating, even if it is a traffic violation rather than a violent crime. With over 25 years of experience defending a wide range of violations, including traffic violations, he knows that even a seemingly minor issue can have a big impact. If you've lost your vehicle registration because of unpaid tolls or other vehicle violations, please call our Rockland County office today.
Resource:
lohud.com/story/news/local/tappan-zee-bridge/2016/09/22/thruway-toll-scofflaws/90799810/