Retired NFL Player Gets Prison Time For Fraud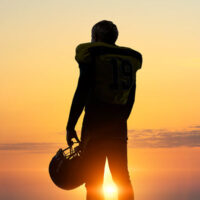 Do you think that professional athletes are overpaid? Well, it seems as though some retired NFL players were not quite satisfied with the inflated salaries they received during their time in the spotlight, because a considerable number of them have been engaging in a nationwide healthcare fraud scheme. This includes New Jersey-born Darrell Reid, who played as a linebacker for the Colts and the Broncos during his five-year career. Reid is also a Super Bowl Champion. This story first broke back in 2020, but now these athletes are being sentenced – and it's not pretty.
If you have been charged with fraud, you need to get in touch with a qualified, experienced New Jersey criminal defense attorney as soon as possible. With help from one of these legal professionals, you can approach this difficult situation in the most efficient, confident manner possible. It goes without saying that fraud can lead to prison time. Even though this is a "white-collar crime," it's difficult to escape criminal consequences without an effective defense strategy. This is why you need to get in touch with a qualified defense attorney as soon as possible.
Robert McCune Sentenced to Five Years in Prison 
On February 9th of 2022, it was reported that former NFL linebacker Robert McCune had been sentenced to five years in prison for healthcare fraud. The charges were first laid against him in 2019, and they included one count of conspiracy, nine counts of wire fraud, and nine counts of health care fraud. He actually pleaded not guilty in 2020 but was indicted later that year. He also faced seven additional charges later. Finally, he pleaded guilty in 2021.
The scheme basically allowed former players and their spouses to collect up to $350,000 per player for out-of-pocket medical care expenses not covered by insurance. This was part of the Gene Upshaw NFL Player Health Reimbursement Account Plan, and McCune was able to submit false and fraudulent claims, typically seeking $40,000 each time. He filed claims on his own behalf and for his associates, many of whom were former NFL players like Darrell Reid. In total, McCune and his co-conspirators defrauded the Gene Upshaw NFL Player Health Reimbursement Account Plan for almost $3 million. McCune also received bribes from his co-conspirators in exchange for submitting fraudulent claims on their behalf.
Many other former players were given prison sentences in addition to McCune. These players include John Eubanks, who received an 18-month sentence, and Ceandris Brown, who received a one-year prison sentence. Darrell Reid was given house arrest and 240 hours of community service.
Enlist the Help of a Qualified Attorney Today 
Skilled New Jersey criminal defense lawyer Phillip J. Murphy can help you fight your charges. Over the years, we have helped a number of defendants pursue positive outcomes, and we know how difficult these situations can be. Book your consultation today, and we can immediately get started on various defense strategies.
Sources:
abc4.com/news/national/former-retired-nfl-player-robert-mccune-14-others-sentenced-for-nationwide-health-care-fraud-scheme/
justice.gov/opa/pr/former-nfl-player-sentenced-prison-nationwide-health-care-fraud-scheme