What Is The Penalty For Ransomware Attacks In New Jersey?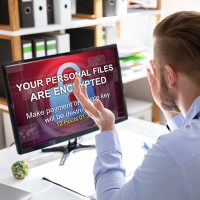 Ransomware attacks are becoming increasingly common across the United States, and many hackers successfully extort victims for millions of dollars. The concept is quite simple: A hacker steals crucial data or cripples an operating system, refusing to reverse the damage until a ransom is paid by the victim. Sophisticated hackers can vanish into thin air without a trace, taking with them their victims' life savings. But what happens if you're caught engaging in this type of crime in New Jersey? What kind of penalties could you face?
The best way to approach this situation is with the help of a qualified, experienced criminal defense attorney in New Jersey. These legal professionals can help you strive for the best results and avoid unnecessarily harsh penalties. Although the state of New Jersey takes cyber crimes very seriously, you still have the right to an attorney. Choose the best defense attorney you can find, and you might discover that it's much easier than you thought to fight for your rights effectively.
An Example of Ransomware Crime in New Jersey 
On September 14th, it was reported that three Iranian nationals had been charged with "computer intrusions and ransomware-style extortion" against critical infrastructure providers. According to the authorities, these three individuals targeted a township in Union County, New Jersey and successfully gained access to the town's network to steal data. They then targeted an accounting firm in Morris County, New Jersey, using an encryption attack to deny the firm access to its systems.
The defendants then allegedly contacted the accounting firm and demanded a ransom payment of $50,000 in return for restoring function to the system. These hackers also threatened to release sensitive data on the internet if the ransom payment was not made. Over the years, the defendants targeted many other victims throughout the United States, including more accounting firms, electric utility companies, a state bar association, and even a shelter for victims of domestic violence.
The Penalty for Ransomware Attacks in New Jersey 
The penalties for ransomware attacks in New Jersey may vary depending on the exact circumstances of the crime. In the above situations, however, the defendants face over a decade behind bars. All three Iranians were charged with one count of conspiring to commit computer fraud, one count of damaging a protected computer, and one count of transmitting a demand in relation to damaging a protected computer. Combined, these offenses could put them in prison for 20 years.
Enlist the Help of a Qualified Attorney Today 
If you've been searching for a qualified, experienced New Jersey criminal defense attorney, look no further than Phillip J. Murphy, Attorney at Law. Over the years, we have helped numerous defendants in the Garden State, and we know how daunting these types of situations can be. With our assistance, you can approach your upcoming legal battle with a sense of confidence and efficiency. It is crucial that you book your consultation as soon as possible for best results, so get in touch today to move forward effectively.
Sources: 
justice.gov/usao-nj/pr/three-iranian-nationals-charged-engaging-computer-intrusions-and-ransomware-style
cnbc.com/2022/09/14/three-iranian-nationals-accused-of-ransomware-attacks-against-hundreds-of-us-victims.html