When is Gun Possession Unlawful in New Jersey?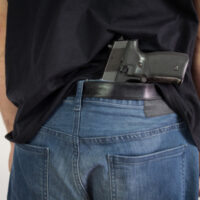 Possession of a firearm is one of the basic rights guaranteed to U.S. citizens according to the Constitution. That being said, many states put severe limits on these rights, and New Jersey is certainly one of them. You may only possess a firearm if you do so legally. If you are found to be in possession of a firearm under unlawful circumstances, you could face significant legal consequences. In many situations, individuals may not be fully aware that they are breaking the law when they're in possession of a firearm. This is why it's so important to establish a firm understanding of the laws that pertain to this issue in New Jersey.
If you are facing criminal charges related to the possession of a firearm, it's important to consult with a criminal defense lawyer as soon as possible. Work with a qualified, experienced legal expert, and you can significantly raise your chances of achieving a positive legal outcome. These professionals can guide you through the entire legal process, helping you approach this situation in a confident, efficient manner.
New Jersey's Gun Laws are Quite Strict 
According to many observers, New Jersey has the second-toughest gun laws in the nation – second only to California. This is despite the fact that New Jersey gun deaths are quite low compared to the rest of the United States. Here's a quick rundown of the gun laws in the Garden State:
You must be at least 18 to purchase and possess a firearm
You must obtain a special ID card to buy a rifle or shotgun
You cannot buy a gun if you have been convicted of any crime in the past
Permits for handguns are exceedingly rare for the general population
You must have a separate ID card to purchase ammo
All assault weapons are banned
Magazines are limited to 10 rounds
You must pass a background check before you can obtain a firearm
Bump stocks are banned
"Ghost guns" are banned
What Kinds of Weapons are Prohibited in New Jersey?
There are a number of weapons that are specifically prohibited in New Jersey. These include:
Sawed-off shotguns
Silencers
Defaced firearms
Automatic weapons (machine guns)
Penalties for Unlawful Possession
Possessing any firearm without a permit is a third-degree crime that may involve a prison sentence of 3-5 years. "Possession for unlawful purposes" is a separate crime that involves someone purchasing a firearm with the intention of committing a crime with it. This can be prosecuted as a second-degree crime with a prison sentence of up to 10 years.
Enlist the Help of a Qualified Attorney Today
New Jersey criminal defense attorney Phillip J. Murphy can help you strive for a positive legal outcome. If you're serious about approaching this situation in the most efficient way possible, reach out today.
Resource:
nj.com/politics/2019/08/nj-has-the-2nd-toughest-gun-laws-in-the-nation-what-are-they.html
https://www.phillipmurphylawyer.com/wp-admin/post.php?post=4617&action=edit