A Tale Of Two Gamblers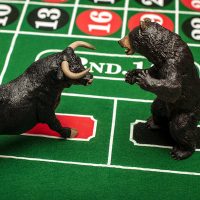 Some say that the stock market is essentially just another type of gambling. They say that it's a casino – and that the house always wins. But is there any truth to this? Is the stock market really the same as an illegal gambling ring – like a card game frequented by New York's most notorious mobsters? Perhaps there's no easy way to answer that question. But what's clear is that both parties can certainly be held accountable for illegal behavior within these two speculative markets. This was made clear with two recent stories in New York that show surprising similarities.
If you have been charged with either market manipulation or illegal gambling, you need to get in touch with a qualified, experienced criminal defense attorney in New York. These legal professionals can guide you towards the best possible result in a confident, efficient manner. Although both of these offenses are taken quite seriously by the State of New York, there's no sense in accepting a needlessly harsh penalty. Internet research can only get you so far, and a face-to-face consultation is the only way to receive personalized legal advice.
Genovese and Bonnano Crime Families Face Charged for Gambling Rings 
On August 16th, it was reported that members of the Bonanno and Genovese crime families in New York had been charged with racketeering, illegal gambling, money laundering conspiracy, obstruction of justice, and other offenses. This was in connection to several illegal gambling operations throughout the Eastern District of New York. One such operation was known as the Gran Caffe, and it was located in Lynbrook. Other operations were established in places like Sal's Shoe Repair, the Centro Calcio Italiano Club, the Soccer Club, La Nazionale Soccer Club, and Glendale Soccer Club.
In addition, one member of the Genovese crime family was allegedly operating an illegal online gambling website. Investigators discovered evidence of money laundering as well as obstruction of justice. As part of the investigation, it was revealed that corrupt police officers were in on the action, as one detective offered to organize raids on competing gambling operations in exchange for cash.
JP Morgan Traders Convicted for Market Manipulation 
On a different side of the same coin, JP Morgan traders were convicted of fraud, price manipulation, and spoofing after manipulating precious metals futures for years. These traders allegedly placed orders that they planned to cancel before execution, thereby driving prices in desired directions before they executed their plans on the opposite side of the market. In 2020, JP Morgan was forced to pay almost $1 billion in criminal monetary penalties for its fraudulent activities with precious metals contracts.
Enlist the Help of a Qualified Attorney Today 
If you've been searching for a qualified, experienced New York criminal defense attorney, look no further than Phillip J. Murphy, Attorney at Law. Over the years, we have assisted numerous defendants in the Empire State, and we know how serious these situations can be. With our assistance, you can strive for the best possible results and approach these situations with a sense of confidence. It's always a good idea to act quickly, so book your consultation today to get started with an effective defense strategy.
Sources: 
justice.gov/usao-edny/pr/nine-members-and-associated-genovese-and-bonanno-organized-crime-families-charged
justice.gov/opa/pr/former-jp-morgan-traders-convicted-fraud-attempted-price-manipulation-and-spoofing-multi-year