Aren't Debtors' Prisons Unconstitutional?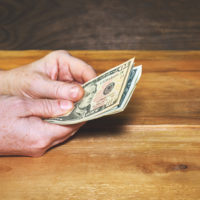 An important decision made by a New Orleans Parish Criminal District Court the week of December 15th highlights a problem all over the United States, whereby poor prisoners are charged fees that they are unable to pay in order to fund our courts. This leads to a vicious cycle, whereby indigent defendants are punished for their inability to pay court-ordered debts.
Indeed, judges do not typically make any inquiries into whether those facing criminal convictions can pay fees, and thus the issue of indigent defendants being subject to imprisonment for failure to pay these debts has not yet been properly addressed in any one state. The result is an overwhelming number of people—primarily minorities—caught in a cycle of unmanageable debt and unnecessary incarceration, which undermines public trust and confidence in the system.
The Law Requires That Ability to Pay Be Taken Into Account
It is surprising that this is still an issue, given that previous U.S. Supreme Court decisions mandated that criminal court judges inquire into whether prisoners have the ability to pay before imprisonment. If a defendant is unable to pay, judges are required to consider alternatives before imprisoning them.
Problems All Over the Country
And unfortunately, Louisiana isn't alone: lawsuits have been filed all over the country—including in New Jersey—alleging that towns are not only disproportionately targeting certain minorities for fines and citations, and using these funds to pay for their courts, but also that  people are being sent to jail because they can't afford to pay fines associated with "crimes" as minimal as flicking a cigarette out of their car window, which turns the criminal justice system into a modern-day debtors' prison.
According to one particular lawsuit filed here in New Jersey, one individual who could not pay his fine went to court to request community service, and was instead sentenced to jail time. He subsequently filed a lawsuit seeking damages based on a violation of his Fourth, Fifth, Sixth, and Fourteenth Amendment rights, as they cover freedom from unlawful imprisonment, false arrest, and false imprisonment.
New Jersey Criminal Defense Lawyer
It is ultimately a conflict of interest for judges to have total power over determining fees and fines, all while they do not always have sufficient funds to staff their offices.
Being convicted of a crime in New Jersey carries with it numerous penalties, which can also include property forfeiture. But we are here to help:  criminal defense attorney Phillip J. Murphy has more than 25 years of experience helping clients in Bergen County, New Jersey and surrounding areas avoid some of the worst consequences of a conviction, including fines you can't pay. Contact us today to find out how we can help.
Resources:
courthousenews.com/judge-finds-new-orleans-debtors-prison-unconstitutional/
oyez.org/cases/2010/10-10
nj.com/burlington/index.ssf/2016/10/suit_claims_jail_time_for_unpaid_littering_fine_is.html
aclu-nj.org/files/7514/7758/1848/2016_10_27_Kneisser_Complaint.pdf