As Religious Attacks Increase In New York, More and More Are Considered Hate Crimes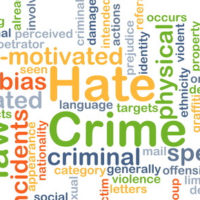 The act of a New York synagogue being vandalized on February 16 is officially being investigated by the NYPD Hate Crimes Division as a hate crime. According to Mayor Bill de Blasio, violence committed against Jewish groups is on the rise throughout the state, and there have been close to 50 of these crimes committed in New York just from January through early February alone.
According to reports, while the Synagogue group was enjoying Shabbat, the front window of the building was smashed, but no one was hurt. De Blasio and other officials have made it clear that they plan to make a statement against hate crimes incidents like these.
What Is A Hate Crime In New York?
In New York, a hate crime is defined as a crime targeting an individual or group due to a belief or perception about their age, ancestry, color, disability, ethnicity, gender, national origin, race, religion, religious practice, or sexual orientation. According to the New York State Division of Criminal Justice Services, most of these crimes involve simple assault and criminal mischief, with the most common arrest charges involving assault and aggravated harassment. Hate crimes can not only target individuals, but property as well, and investigating officers are required to identify a crime as a hate crime and specify the bias suspected when they report the incident.
Crime & Arrest Trends in New York
Also according to the Division's statistics, most of these crimes and the arrests made are committed due to religion (anti-Jewish crimes), race/ethnic/national origin (anti-black bias), and LGBT bias, and the following New York counties experienced the highest number of hate crime arrests:
New York City (New York, Kings, Queens, Bronx, Richmond);
Westchester;
Suffolk;
Nassau; and
Erie.
Of those convicted, almost 20 percent are sentenced to state prison, 37 percent to jail, almost 14 percent to local probation, and 20 percent are sentenced to conditional discharge.
Contact Our New York Criminal Defense Attorneys
While New York has defined hate crimes, and gathered statistics concerning who commits them and the bias behind them, how do police know, for sure, if a window is broken that it was because of an anti-religious bias, especially if there are no words written in association with the crime to indicate what the perpetrator's intent was? Arguably, arrests for these crimes involve a certain amount of speculation.
If you or a loved one has been accused of a crime that could be construed to be a hate crime, it is important that you consult with an experienced criminal defense attorney right away in order to ensure that your rights are protected. Contact our New York criminal defense attorneys at the office of Phillip J. Murphy today to find out how we can help. 
Resources:
foxnews.com/us/brooklyn-synagogue-vandalized-with-15-people-inside-police-investigating-as-possible-hate-
crime.criminaljustice.ny.gov/crimnet/ojsa/hate-crime-in-nys-2016-annual-report.pdf
nypdcrime.com/penal.law/article485.htm#p485-05