Authorities Continue To Crack Down On Covid Fraud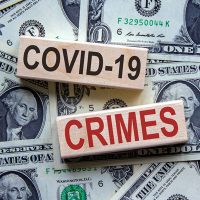 As the pandemic disappears in the rear-view mirror, we continue to see an almost never ending slew of covid fraud cases across New Jersey and New York. It seems as if the authorities are overwhelmed with the sheer number of people charged with these offenses. If you have been accused of taking advantage of pandemic-relief efforts for personal gain, you are not alone. With such a serious response from the authorities, it makes sense to work with a qualified defense attorney as you strive for the best possible outcomes.
Man Gets Two Years for Covid Fraud 
On October 12th of 2023, the Department of Justice announced that a man in Rochester had been sentenced to two years in prison for Covid fraud. In addition, he was ordered to pay over $375,000 in restitution. The defendant was convicted of wire fraud due to his repeated attempts to file fraudulent tax returns. Essentially, he was trying to receive tax refunds – often pursuing amounts well over $100,000 per calendar year. After numerous attempts, the IRS finally accepted one of these fraudulent returns and gave the defendant a tax refund of over $186,000. In addition, he submitted numerous SBA loan applications during the pandemic and would have received over $573,000 had they been accepted.
Man Gets Almost 5 Years in Prison for Numerous Counts of Covid Fraud 
On October 5th, the Department of Justice announced that a man from North Chili had been convicted of 37 counts of covid fraud – resulting in a prison sentence of 57 months. This individual faced charges of money laundering, wire fraud, and bank fraud. During the pandemic, he applied for eight different Payroll Protection Program loans in an attempt to receive almost $900,000 in PPP loans. After an investigation, it was determined that this individual did not have any employees, and he had not paid any wages during the pandemic. In fact, he was unemployed while collecting benefits from the State of New York. In the end, he received over $250,000 in PPP loans and began withdrawing the funds – being careful to keep the amounts under $10,000 to avoid reporting requirements. Eventually, the IRS located these funds in safes within the defendant's home.
Middlesex County Defendants Plead Guilty for $2.1-Million Covid Fraud Scheme 
On October 11th of 2023, it was reported that three defendants had pleaded guilty to a covid fraud scheme that saw them receive over $2 million in funds via PPP loans. They were charged with conspiracy to commit wire fraud and money laundering. Each conspiracy count carries a maximum sentence of 20 years in prison.
Where Can I Find a Qualified, Experienced Criminal Defense Attorney in New Jersey?
If you've been searching for a qualified, experienced criminal defense attorney in New Jersey, look no further than Phillip J. Murphy, Attorney at Law. Over the years, we have helped numerous plaintiffs across the Garden State – including those facing fraud allegations. We know that in many cases, defendants may have been unfamiliar with pandemic relief efforts – unwittingly committing offenses without fully realizing the extent of their actions. Book a consultation today to get started with an effective defense strategy.
Sources: 
justice.gov/usao-wdny/pr/rochester-man-going-prison-covid-fraud
justice.gov/usao-wdny/pr/north-chili-man-convicted-37-counts-covid-relief-fraud-going-prison
justice.gov/usao-nj/pr/three-middlesex-county-individuals-admit-covid-19-fraud-schemes-totaling-over-21-million