Bomb Threat Consequences In New Jersey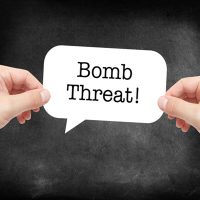 The consequences for calling in a bomb threat in New Jersey are quite severe. Terrorism has become a major focus for authorities across the nation within the past few decades, and those accused of engaging in these acts can expect little sympathy from the justice system. But what exactly are the consequences for bomb threats in New Jersey? What if you were merely intending to pull a prank, and there was never any actual threat of an explosion?
Man Faces Charges for Community College Bomb Threat 
On August 25th of 2023, it was reported that a man was facing charges for calling in a bomb threat at a New Jersey community college. Sussex County Community College in Trenton allegedly received a call from the defendant warning them of an impending terrorist attack. The police took this threat seriously, investigating the matter along with the Bomb Squad and several other specialized task forces. However, it was quickly determined that there was no threat whatsoever to the general public.
It is not clear how the defendant was located, but it seems as though the authorities deduced with equal speed that he was responsible for making the call. With today's tracing technology, it is very difficult to hide calls – even if defendants attempt to make use of commonly-available apps or encryption devices.
Police say that the defendant is a former student at the community college, and he was quickly processed and placed in jail. He now faces charges of making terroristic threats and eliciting false alarm. The crime of making terroristic threats may result in up to 5 years in prison for those convicted. Eliciting false alarm is a lesser charge, but it may still result in up to 1.5 years in prison.
Defense Strategies for Bomb Threat Charges 
The best defense strategy depends on the unique circumstances surrounding each bomb threat. However, there are some common strategies that may be employed in this situation. The most obvious is the lack of evidence, and the unreliability of tracing technology utilized by authorities. It may also be unconstitutional to gather certain evidence. In some situations, bomb threats may fall under protected speech. Finally, bomb threat charges may be the result of a genuine case of mistaken identity. Speak with your New Jersey defense attorney to determine which strategy might be best-suited to your unique situation.
Where Can I Find a Qualified, Experienced Defense Attorney in New Jersey? 
If you've been searching for a qualified, experienced New Jersey criminal defense attorney, look no further than Phillip J. Murphy, Attorney at Law. We know that the severity of bomb threats are often exaggerated by authorities, and in many cases defendants never actually had any intention of causing any harm. With our help, you can fight for your rights with confidence and utilize an effective defense strategy to pursue positive results. Book your consultation today to get started with an effective action plan.
Source: 
patch.com/new-jersey/hopatcong-sparta/man-24-charged-bomb-threat-incident-nj-community-college