Brett Kavanaugh's Nomination Concerned Civil Rights Advocates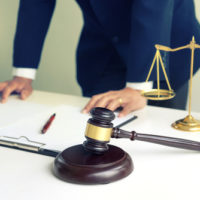 The nomination of Brett Kavanaugh to the U.S. Supreme Court had a number of civil rights activists concerned; based on the judge's decision record.
In addition to concerns over his individual record, there were also overall concerns that his addition to the court would also make the current Chief Justice—a traditionally conservative voter—the swing vote, leading to a five-member conservative majority that would limit the use of race-conscious decisions in areas like college admissions and voting restrictions—two very important civil rights issues—amongst others.
Key Issues That Could Be Affected
Kavanaugh previously worked for President George W. Bush, who favored "race-neutral admissions" (i.e. he was opposed to affirmative action). Based on his views expressed in this position, as well as the history of some of his decisions, a number of civil rights advocates are concerned that Kavanaugh would ultimately undermine the court's integrity and prove a grave threat to civil rights and racial justice. Kavanaugh reportedly wrote briefs indicating his personal opposition to affirmative action, as well as upholding such controversial voter ID laws as those passed in South Carolina.
It is also important to realize that Kavanaugh replaced Justice Kennedy, arguably making Chief Justice Roberts the swing vote. The retiring Justice Kennedy and the current Chief Justice Roberts have been on opposite sides of the aisle concerning such key issues as the rights of those detained at Guantanamo Bay (Cuba), whether the death penalty is an option for the conviction of child rape, prison overcrowding, and the option of life without parole for juvenile offenders.
Consult an Experienced Civil Rights Attorney Serving New York & New Jersey
With increasing concerns that courts are leaning away from criminal justice as more and more judges are appointed during and reflecting the views of the current administration, it is vitally important—now more than ever—to work with a seasoned attorney in protecting your civil rights, both defensively and offensively. Contact the New York office of Phillip J. Murphy today to schedule a free consultation and find out more.
Resources:
nytimes.com/2018/09/02/us/politics/judge-kavanaugh-supreme-court-justices.html
cbsnews.com/news/democrats-scrutinize-kavanaughs-civil-rights-record-ahead-of-hearings/