Can You Face Charges For Possessing ONLY Ammunition In New York?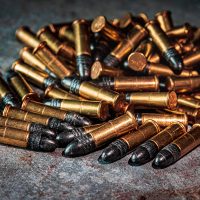 Anyone who knows a thing or two about guns will tell you that these devices are useless without ammunition. On the other hand, ammunition is arguably even more useless without a gun. But could you really face criminal charges for possessing only ammunition in the State of New York? The answer might surprise you, and it is indeed possible to face serious prison time for possessing ammo under unlawful circumstances.
Felon in Troy Sentenced to One Year for Having Only Ammo 
As you may know, it is illegal for felons to own firearms in New York. But did you know that it is also illegal for them to own ammunition – even if no gun is present? This is what a felon in Troy learned when his residence was searched. Police found a loaded Glock magazine in 2021 along with numerous other rounds of ammunition. No gun was ever located. On April 5th of 2023, it was reported that he had been sentenced to one year in prison and 1 year of supervised release.
The Basics of Ammo Laws in New York 
Along with the law against felons owning ammo in New York, there are a number of other laws related to ammo that you need to be aware of. First of all, you should only buy ammo for the specific firearm(s) that you own. For example, if the police find a large amount of 50-caliber cartridges and you don't own any weapons that fire these rounds, questions may be raised.
Generally speaking, it is very difficult to unwittingly purchase illegal ammo types in New York. Why? Because no gun stores sell illegal rounds. That being said, you could potentially purchase illegal ammo in another state where it is legal and bring it to New York. Incendiary and armor-piercing rounds are illegal in New York unless you can prove that you have a reasonable need to own them. And because civilians do not "need" to own these cartridges, this means that they are effectively illegal for almost everyone.
"Exploding" ammo is a slightly different story. As you may now, hollow points expand upon entering the target, creating an explosive "effect." But this expansion does not involve any explosive materials aside from the gunpowder that originally fires the projectile. Hollow points are illegal in New York, and they are sold in almost all gun stores. There are some rounds that are illegal in some New York municipalities but not others. For example, the rare "dragon's breath" shotgun shell is illegal in NYC but legal in most upstate municipalities. Always check with your local municipality before purchasing rare or exotic ammo.
Where Can I Find a Qualified, Experienced Criminal Defense Attorney in New York? 
If you've been searching for a qualified New York defense attorney, look no further than Phillip J. Murphy, Attorney at Law. Over the years, we have helped numerous defendants in the Empire State – including those who have faced charges related to firearms and ammunition. These charges can be very serious, so it makes sense to get in touch and book a consultation at your earliest convenience. During this initial meeting, we can assess your unique situation and recommend the best course of action. Reach out now for a solid defense strategy.
Sources:
justice.gov/usao-ndny/pr/troy-felon-sentenced-ammunition-possession
nysenate.gov/legislation/laws/PEN/P3TPA265