Can You Get Pulled Over For Driving With High Beams In New Jersey?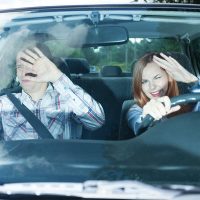 For many drivers, one of the most frustrating things is being blinded by high beams. Although high beams are intended to keep motorists safe, they can also lead to serious safety concerns if used improperly. As many motorists are no doubt aware, it is considered common courtesy to turn off your high beams when approaching another vehicle. But what happens if you fail to do this? Could you be charged with a crime? And if so, how do you defend yourself?
If you've been charged with any traffic offense in New Jersey, it always makes sense to dispute it to your best ability. This is true whether you have been charged with a serious offense or a relatively innocuous infraction. The best way to fight a ticket is to get in touch with a qualified, experienced criminal defense attorney in New Jersey as soon as possible. With the help of one of these legal professionals, you can push back against excessive tickets, save yourself a considerable amount of money, and potentially prevent a license suspension.
What are the Laws Regarding High Beams in New Jersey? 
According to N.J.S.A 39:3-60, "improper use of high and low headlight beams" is a traffic offense that comes with a fine of $47. According to this law, you are allowed to use high beams in New Jersey during dark conditions – but only if you carefully dim your high beams when approaching another vehicle. Modern vehicles often feature automatic dimmers that do this for you, meaning you don't even have to worry about manually dimming your high beams every time you pass another vehicle.
Can Police Pull You Over for Improper Use of High Beams? 
While police can issue you a ticket for improperly using your high beams, this is an incredibly rare situation. Police must actually witness you using your high beams in a way that interferes with other drivers, which means you'd have to be really unlucky to be pulled over for this offense. If you are simply using your high beams on a road with no other drivers, the police basically have no right to pull you over. In fact, past cases illustrate that this constitutes an unlawful traffic stop – even if you were using your high beams on a well-lit road. As such, any subsequent charges you may face after this unlawful stop (such as discovery of drugs or illegal weapons) will be dismissed due to the initial constitutional violation.
Enlist the Help of a Qualified Attorney Today 
Dedicated New Jersey criminal lawyer Phillip J. Murphy is prepared to help you today. Over the years, we have helped numerous defendants in the Garden State, and we know that even the smallest traffic offenses deserve attention. There's simply no sense in rolling over and accepting these tickets – especially when it is relatively easy to fight them in court. Book your consultation today, and you can get started with an effective defense strategy right away.
Sources: 
nacto.org/docs/usdg/nj_statutes.pdf
wobm.com/high-beams-driving-laws-nj/