Can You Go to Jail For Threatening A Teacher In New York?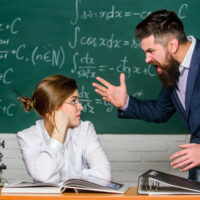 It is only natural for parents to be concerned about the education their child is receiving. But what happens if you go a little too far in your criticism of their teachers? What happens if you threaten your child's teacher? Could you go to jail? In the current political climate, there are many subjects that might be taught to your children that you might find controversial in nature. In addition, your child's school might adopt certain policies that you do not agree with. But when does your right to free speech end, and when might you experience legal consequences for speaking out?
If you are facing criminal charges, it's always a good idea to team up with a qualified, experienced criminal defense attorney in New York. These legal professionals can fight for your rights in an effective, confident manner. The First Amendment creates the basis for a strong legal defense, no matter how serious the charges might be. Your attorney can help you mitigate potential legal consequences and avoid a range of penalties.
Justice Department Considers Prosecuting Those Who Threaten School Personnel 
On October 5th, it was reported that the Justice Department was deploying law enforcement officials to address alleged threats made against educators around the nation. These purported threats were mostly the result of controversial school policies, such as mask mandates and the teaching of critical race theory. While Attorney General Merrick Garland accepted that "spirited debate" was protected under the US Constitution, he stated that threats and intimidation are illegal. At least one protestor at a school board meeting was arrested in recent weeks.
National School Board Association Likens Protesting Parents to Domestic Terrorists 
In a controversial letter to the Department of Justice, the National School Board Association referred to parents who protest at school board meetings as "domestic terrorists." The letter clearly states that these "heinous actions could be the equivalent to a form of domestic terrorism. The NSBA also calls upon the Department of Justice to deal with these protesting parents using laws outlined in the PATRIOT Act, laws which are specifically targeted towards terrorists.
Penalties for Making Threats in New York 
In New York, you may be charged with a crime called "menacing" if you make threats towards another person. For example, you might be charged with either menacing in the third degree or menacing in the third degree. These crimes can result in jail time and potential fines. However, there must be some kind of physical element to the threats, and words alone are typically not enough to result in criminal convictions.
Enlist the Help of a Qualified Attorney Today 
For help with your case, reach out to dedicated New York criminal defense attorney Phillip J. Murphy. We have considerable experience with a wide range of criminal cases, and we can help you fight for your right to free speech. Although threats are technically illegal, there are certain instances where legitimate free speech can be wrongly interpreted as a threat. And when it comes to expressing your views about your child's education, everyone deserves a voice. Book your consultation today, and we can formulate an effective defense strategy on your behalf.
Source:
nytimes.com/2021/10/05/us/politics/school-threats-justice-department.html