Can You Go To Prison For Carrying A Gun Into A New York Church?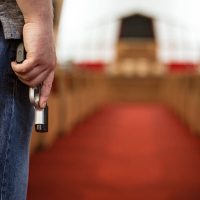 New York is famous for having some of the toughest gun laws in the entire nation. However, this does not mean that gun owners in the Empire State are prevented from exercising any of their Second Amendment rights. If you are a legal gun owner in New York, you should do everything you can to stay up-to-date on the latest changes in gun law legislation. Although it can sometimes seem like these laws change with each passing week, you could experience serious consequences if you're not aware of the current legislation. Remember, ignorance is not a viable defense. So will you go to prison if you carry a gun into a New York church?
The Bruen Decision 
Today, this debate revolves around something called the "Bruen Decision." This refers to the Supreme Court's decision to make it illegal to carry a handgun in certain areas. These areas include:
Schools
Churches
Airports
Parks
Bars
Times Square
The Supreme Court has also ruled in gun owners' favor, however. In the summer of 2022, the court struck down a law that would have made it impossible for handgun owners to carry outside their own homes unless they proved that there was an "unusual threat to their safety."
A lawsuit has been filed by six gun owners, including a pastor who insists that it is necessary for him to carry a handgun inside his own church. This church just so happens to be his residence as well – creating something of a legal gray area. The implication is that he does not feel safe in his own church. But are these fears really justified?
Two Men Charged After Robbing a Church in Brooklyn 
On September 28th, it was reported that two men had been charged for robbing a church at gunpoint in Brooklyn. The defendants allegedly took off with jewelry that they had stolen from clergy members. Each defendant faces a maximum sentence of life in prison. But do stories like these justify legal gun owners' arguments? Might these criminals have been dissuaded from this violent act if they knew all of the pastors were armed? That is a debate for another article.
Enlist the Help of a Qualified Attorney 
If you have been charged with a firearms-related offense, you need to get in touch with a New Jersey criminal defense attorney as soon as possible, such as Phillip J. Murphy, Attorney at Law. These legal professionals can help you fight for your rights effectively with a solid defense strategy. The sooner you book your consultation with a defense attorney, the better your chances will be. With gun owners challenging the constitutionality of these gun possession offenses, it may be easier to fight for your rights than you realize. Reach out today to get started.
 Sources:
nbcnewyork.com/news/local/judge-hears-arguments-challenging-new-yorks-new-gun-law/3887850/
justice.gov/usao-edny/pr/two-brooklyn-men-charged-armed-robbery-church