Can You Go To Prison For Green Card Fraud In New Jersey?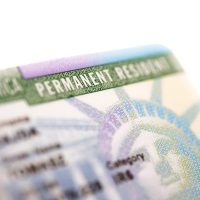 The United States is an attractive location for many immigrants. Some go through the legal process and emigrate from their home nations legally. Others do not. Those that skip the process should be aware that they face legal consequences for their actions. But people moving across the border illegally aren't the only ones who may face charges. American citizens can also be held criminally liable for their role in fraudulent activities designed to help migrants circumvent immigration law in the United States. A clear example is green card fraud. But can you really go to prison for this crime?
New Jersey Sentenced to Seven Months in Prison for Green Card Marriage Fraud 
On November 10th, the Department of Justice reported that a woman from New Jersey had been sentenced to seven months in prison for participating in green card marriage fraud. She will also face two years of supervised release and 45 days in a halfway house after her release from prison.
The story begins in 2012, when this individual used her US citizenship to engage in a fraudulent marriage with a Jamaican citizen. After a quick interview with the USCIS, the Jamaican citizen was issued a temporary green card. At this point, the US citizen had lied to an immigration official – a serious offense. But the lies continued, and the alleged "couple" continued to file submissions and statements to the USCIS suggesting that they were legally married and living together. In fact, the US citizen had married a completely different person back in 2010 – and she was living with this individual the entire time.
After an investigation, it was revealed that the real spouse of the US citizen was also engaged in the fraud – running a legal immigration service in Bridgeport, Connecticut. This individual arranged a total of 28 sham marriages between 2011 and 2017, allowing various immigrants to fraudulently obtain green cards. This individual was also a Jamaican citizen, and she had fraudulently obtained her own green card by marrying a US citizen.
In the end, all three of these individuals pleaded guilty to "conspiracy to commit immigration marriage fraud." In total individuals were caught up in this scam, and they are all facing criminal charges for participating in sham marriages.
This shows how seriously the US government takes sham marriages. You should know that whether you are a US citizen or an immigrant, you face serious consequences for participating in these scams. As an immigrant, you face deportation and criminal charges. As a US citizen, you face months behind bars.
Where Can I Find a Qualified Criminal Defense Attorney in New Jersey? 
If you've been searching for a qualified, experienced New Jersey criminal defense attorney, look no further than Phillip J. Murphy, Attorney at Law. With our assistance, you can fight for your rights and strive for the best results – whether you have been charged with fraud or any other offense. Book your consultation today, and you can immediately get started with an effective defense strategy.
Sources: 
justice.gov/usao-ct/pr/new-jersey-woman-sentenced-prison-immigration-marriage-fraud
justice.gov/usao-nj/pr/two-essex-county-women-charged-sham-marriage-immigration-scheme