Can You Go To Prison For Killing Bear Cubs In New Jersey?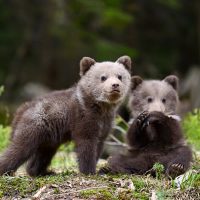 Most people can agree that killing a bear cub or any other young animal is an act of serious cruelty. But at what point do immoral acts cross the line into illegal crimes? This is what many New Jersey residents are asking themselves in the midst of a major controversy involving four slaughtered bear cubs. The authorities eventually tracked down the hunter responsible, and many people are calling for criminal charges. But is this really legal? Could you really go to prison for killing bear cubs?
The Bear Cub Controversy Explained 
On November 29th, it was reported that a slew of animal rights organizations were pushing for criminal charges to be laid against a hunter who killed four bear cubs in Ringwood State Park. At first, the bodies of these cubs were found by hikers with no sign of the hunter. Eventually, the New Jersey Fish and Wildlife Conservation department managed to track down the hunter. He was then charged with a range of offenses, including hunting with a firearm, hunting a bear during closed season, and hunting with an illegal weapon.
Here's the thing: These charges typically result in fines of a few thousand dollars. While this certainly represents a pain in the neck for the hunter, he wouldn't be placed behind bars under normal circumstances. Animal rights groups are not happy about this, and they want the hunter to face much more than a bill of a few thousand dollars. As a result, they are arguing that the hunter should face animal cruelty charges for each of the four cubs he slaughtered. This could result in up to 2 years in prison.
Do Animal Cruelty Laws Really Apply in this Situation? 
But would it even make sense to press animal cruelty charges from a legal perspective? New Jersey's animal cruelty laws make no mention of killing cubs or other young animals. However, they do state that it is illegal to "needlessly kill" an animal. You could argue that the hunter needlessly killed the cubs, but this is a bit of a stretch – especially when you consider the fact that these laws were written for domestic pets rather than wild animals. Hunting regulations take precedence in this situation, especially since New Jersey recently legalized bear hunting.
Where Can I Find a Qualified Criminal Defense Attorney in New Jersey? 
If you've been searching for a qualified, experienced New Jersey criminal defense attorney, look no further than Phillip J. Murphy, Attorney at Law. We know that hunting regulations and animal rights laws seem to change constantly in the Garden State, and we can help you fight back against related charges. The truth is that you could potentially face prison time for acts of animal cruelty. Book a consultation today, and we can help you mitigate these potential consequences in the best way possible.
Sources: 
ladyfreethinker.org/sign-justice-for-nj-bear-cubs-brutally-killed/
nytimes.com/2022/11/15/nyregion/bear-hunt-new-jersey.html
change.org/p/longisland-news12-com-ringwood-residents-express-concern-at-council-meeting-regarding-killing-of-4-4-bear-cubs-illegally-killed-near-school-we-need-criminal-charges-applied-to-mathew-ligus?original_footer_petition_id=13417015&algorithm=promoted&source_location=petition_footer&grid_position=9&pt=AVBldGl0aW9uAHtjFgIAAAAAY4Ie5Y%2BMkatjYWU0NjgzNA%3D%3D
njherald.com/story/news/2022/11/30/nj-bear-hunt-2022-protest-lawsuit-animal-rights-group/69687423007/
nytimes.com/2022/11/15/nyregion/bear-hunt-new-jersey.html