Covid-19 Relief Fraud Was Out Of Control: What Happens If You're Caught?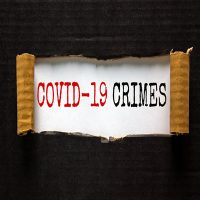 United States residents are beginning to understand just how fraudulent the Covid-19 relief system really was. This taxpayer-funded program allowed scam artists to snap up millions of other people's hard-earned money by filing completely fabricated Covid-19 relief applications. Apparently, very few questions were asked – and money was sent out almost instantly. Now, those who committed Covid-19 fraud are beginning to experience consequences – and we're all starting to realize just how serious this problem really is. But what happens if you get caught committing Covid-19 relief fraud in New York?
House Committee On Oversight and Accountability Investigates Covid Program 
The Covid-19 relief programs have come under fire after a House Committee investigation – not for providing people with financial support during hard times, but for providing millions to people who clearly played the system. The main criticisms of these programs revolve around their complete lack of safeguards and protections against fraud. Slowly but surely, scammers have been exposed by numerous investigations – and some of the stories are quite worrying.
Some fraudsters received hundreds of millions of dollars. Some of them received these sums while pretending to be charities. In total, $84 billion in fraudulent small business loans were filed. $2 trillion was set aside for Covid relief in 2020, and experts say the true number of embezzled funds could exceed "hundreds of billions." At least 1,000 people have faced charges for Covid-19 fraud, and the real question is simple: How many scammers actually got away with this? 
What Happens if You Commit Covid-19 Relief Fraud? 
If you're caught committing Covid-19 fraud, you will probably be charged with wire fraud. This will likely lead to years in prison. The court will not be lenient due to the nature of this offense and the fact that this money was intended for sick people and bankrupt small businesses. To give you an idea of the legal consequences, it might help to consider a recent example:
On January 27th of 2023, it was reported that a woman from New York had been sentenced to 45 months in prison for submitting fraudulent PPP loan applications under the CARES Act. This individual actually encouraged other people to make fraudulent PPP loan applications and received kickbacks from their proceeds. She created falsified bank statements and other financial documents to support her applications. Her criminal operation eventually grew to include 30 individuals – all of whom are now facing charges.
Where Can I Find a Qualified Criminal Defense Attorney in New York?
 If you've been accused of Covid-19 relief fraud, you need to get in touch with a New York criminal defense attorney as soon as possible. Choose Phillip J. Murphy, Attorney at Law to get your situation straightened out. During your consultation we can assess your unique situation and help you get started with an effective defense strategy.
 Sources: 
indianacapitalchronicle.com/2023/02/03/u-s-house-panel-probes-extent-of-fraud-in-federal-covid-19-relief-programs/
oversight.house.gov/release/comer-opens-hearing-investigating-billions-lost-to-waste-fraud-and-abuse-in-pandemic-programs/
justice.gov/opa/pr/new-york-woman-sentenced-92-million-covid-19-relief-fraud