Criminalizing Citizens for Both Deportation & Civil Disobedience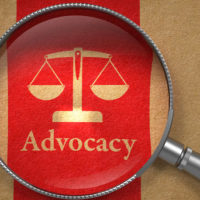 It's no secret that many people in America are scared are of being deported right at this moment—most of them even though they've done nothing at all—others for petty crimes that they paid their dues for long ago. While the Obama administration's guidelines for the Immigration and Customs Enforcement (ICE) agency specified that terrorists and criminals were priorities for deportation, President Trump's January orders effectively vacated those guidelines, stating that all "aliens ordered for removal from the United States [be] promptly removed."
A recent New York Times article follows one of these individuals—Guadalupe Garcia Aguilar—who had a felony for using a fabricated Social Security number, and who, as a result, made headlines as being the first person deported under President Trump's new executive orders on immigration. She had been living in the United States for 22 years (since she was 14 years old); she was the mother of two American citizens; and she had missed being eligible for the Deferred Action for Childhood Arrivals, an immigration policy founded by the Obama administration in 2012. Naturally, her potential deportation drew much media attention, as well as plenty of political protests from those opposed to the new deportation guidelines.
Civil Disobedience "Crimes"
Thousands of activists have come to rely on civil disobedience to try and draw attention to the many injustices that are occurring on a regular basis when it comes to criminalizing individuals who have been in America for years simply so that they can be deported. In doing so, the activists themselves face the risk of getting arrested every time.
Individuals who engage in civil disobedience—even if these activities arguably involve simply exercising one's constitutional rights to free speech—risk arrest, being sent to jail until they are bailed out, and possibly going to trial. Sentences for convictions of minor civil disobedience crimes can involve serving jail time for up to six months and/or fines up to $500.
However, this is where working with an experienced criminal defense attorney who is also experienced in civil rights can be extremely helpful, as the constitution protects your right to engage in protests and political speech. Your attorney can counsel you on the difference between state and federal charges (i.e. if your activity occurs on federal property, you will face federal charges; if it occurs on state or local property, you will likely face state or local charges). In New York, for example, the typical charges associated with civil disobedience include disorderly conduct, resisting arrest, and/or obstruction.
Dedicated Criminal Defense & Civil Rights Attorney for the People
If you or a loved one is facing deportation due to a previous conviction, or you have been arrested for civil disobedience as part of a political protest, contact us today for a free consultation and we can assist you. Phillip J. Murphy has been defending individuals accused of crimes in New York and New Jersey for more than 25 years. We are here to help.
Resource:
nytimes.com/2017/05/23/magazine/is-it-possible-to-resist-deportation-in-trumps-america.html?hpw&rref=magazine&action=click&pgtype=Homepage&module=well-region&region=bottom-well&WT.nav=bottom-well&_r=0