"Defender General" Proposal to Level the Playing Field at U.S. Supreme Court Level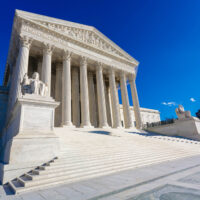 The U.S. Supreme Court has essentially defined U.S. criminal procedural law. It has determined what defines the acceptable boundaries involved in arrest, search and seizure, one's rights under the Fourth Amendment, the meaning of "probable cause," the execution of search warrants, the parameters of warrantless searches, the privilege against self-incrimination, the Sixth Amendment right to counsel, the provisions of the Miranda Rule, what due process is, what the meaning of effective assistance of counsel is, what the right to a speedy trial and impartial jury looks like, and more.
The U.S. Supreme Court Defines Criminal Defendants' Rights, But The Playing Field Is Severely Skewed
For all intents and purposes, the Court has shaped the rights of criminal defendants in today's criminal justice system: It decides when the police can question you, what amount of force they can use, how jurors can be chosen, whether evidence can be used at trial, etc. The outcomes of criminal trials at the Supreme Court level determines the rights of criminal defendants around the country, and yet, defendants are arguably at a significant disadvantage compared to the prosecution because while prosecutors can advocate for the long-term objectives of the government, defense attorneys must defend the interests of the defendant, specifically; regardless of any larger goals. This has resulted in distortion over time, and made the Court what has been called by academics a "flawed regulator of criminal justice." In addition, not a single Supreme Court Justice since Thurgood Marshall retired in 1991 has ever spent significant time working as a criminal defense attorney. In fact, eight of the nine justices currently on the Court worked in prosecutors' offices.
Counterbalancing The Solicitor General
As a result, some, including these academics and Supreme Court Justice Elena Kagan, now propose creating an Office of the Defender General to counterbalance the solicitor general, the Justice Department official who represents the government in Court. The Office would be charged with advocating for the interests of criminal defendants as a whole, as in, collectively, and where these interests diverged from those of the particular defendant, the Office could decline to participate or simply file a merits brief.
Contact The Very Best in Criminal Defense Services
When it comes to selecting a criminal defense attorney, it is critical that you work with the best. New Jersey criminal defense attorney Phillip J. Murphy has more than 30 years of experience defending clients who have been accused of a myriad of crimes, including but not limited to assault and violent crimes, drug crimes, DWI, theft and shoplifting, and traffic violations. Contact the office today to find out more about our services and how we can help.
Resource:
theappeal.org/professors-propose-a-defender-general-to-level-the-playing-field/
nytimes.com/2020/01/27/us/a-proposal-to-offset-prosecutors-power-the-defender-general.html
https://www.phillipmurphylawyer.com/new-york-citys-controversial-collection-of-genetic-data-nypds-use-of-the-dna-database/