Do I Have to Testify as a Defendant in New York?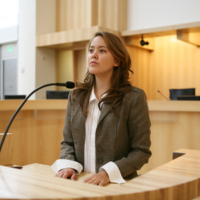 If you face criminal charges in New York, one of the most worrying thoughts is taking the witness stand. This is obviously a stressful situation for many people, and it is what most of us think of when we imagine ourselves "on trial." Defendants who take the witness stand often feel like they're being judged… because, well… they are being judged. It's not necessarily a nice feeling, and you might be wondering whether you're legally obliged to testify in your criminal case.
Approaching this situation becomes much easier when you have a legal expert by your side. When you enlist the help of a qualified, experienced criminal defense attorney in New York, you take a lot of the stress out of the legal process. If you do end up taking the stand, your criminal defense attorney can help you deal with the pressure and conduct yourself in an efficient, dignified manner.
Understanding Your Constitutional Rights 
Before we get into the actual process of taking the stand as a defendant, it's important to understand your constitutional rights. Simply put, you always have the right to remain silent under the Fifth Amendment. This right does not suddenly evaporate when you're facing a criminal charge. In fact, it becomes even more important and useful in many situations, and courts across the United States are obliged to respect this right. In addition, exercising your right to remain silent cannot be legally interpreted as an admission of guilt.
No one can force you to take the witness stand against your will. This includes the judge presiding over your case, the prosecutor, and even your own criminal defense attorney. While it's true that courts may issue subpoenas that force witnesses to testify, defendants are always excused from testifying – whether the court has a subpoena or not.
When Should You Take the Stand?
With all that said, there are some situations in which it is highly beneficial for the defendant to take the stand. While your criminal defense attorney can only encourage you to take the stand, it's important to understand when it's in your best interest to testify:
You have useful information that can help your case
When it's your word against theirs
When you can communicate in an articulate manner and you are a generally likable person
When you can stand up to cross-examination from the prosecution
When Should You NOT Take the Stand? 
Generally speaking, most criminal defense attorneys do not recommend that you take the stand if the prosecution's case is weak. Simply put, it's not worth the risk – and this is why it's quite rare for defendants to testify.
Enlist the Help of a Qualified Attorney Today
Skilled New York criminal defense attorney Phillip J. Murphy will help you approach criminal charges in a dignified, stress-free manner while ensuring that your constitutional rights are being protected. Reach out today, and we can help you take your first steps towards justice.
https://www.phillipmurphylawyer.com/the-most-effective-criminal-defense-strategies/