Expect Tougher Gun Laws In The Wake Of Texas School Shooting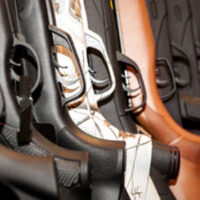 Everyone can agree that the school shooting at a Texas elementary school was tragic. If you're a gun owner in New Jersey, this incident may result in significant changes, as Governor Murphy is now pushing to make the state's existing laws even more strict. Regardless of your opinion about current gun laws in the United States, you should be aware of these potential changes. If you ignore them, you could face legal consequences.
If you are facing firearm-related charges of any kind in the Garden State, it makes sense to get in touch with a qualified, experienced criminal defense attorney as soon as possible. In the wake of this school shooting, public opinion has shifted. This means that the court is likely to view gun owners with even more disdain, and this means that it's even more important to get help from a qualified, experienced attorney right away. Book your consultation as soon as possible, and you can immediately get started with an effective action plan.
New Jersey Already Has the Second-Toughest Gun Laws in the Country 
Many legal gun owners in New Jersey were confused when Governor Murphy announced plans to make firearm laws even more strict in this state, since it is already known for having some of the toughest gun laws in the entire nation (1). In fact, only California is more restrictive when it comes to firearm ownership.
Here's why New Jersey is considered so strict:
It is a "May Issue" state, which means you must prove that you actually need a firearm
Open carry is not allowed
Concealed carry permits from other states not recognized
Hollowpoints are banned
Assault firearms are banned
10-round magazine limit
Anyone can have their firearms confiscated by the court under the state's "Red Flag" laws. 
What Does Governor Murphy Want to Do? 
Governor Murphy has been pushing for stricter gun laws for years. His goal is to essentially make New Jersey the most restrictive state in the entire nation with firearm purchaser ID cards every four years, electronic logs of all ammunition and firearm sales, and a mandate to keep guns in locked boxes at all times (or use trigger locks).
In the wake of the Texas shooting, Governor Murphy basically renewed his calls for these changes (2). He also introduced new changes, including the banning of 50-caliber firearms and the introduction of microstamping technology. While calling for these changes, Murphy accused any legislator who went against them of being bought out by the gun lobby.
Enlist the Help of a Qualified Attorney Today 
Skilled New Jersey criminal defense attorney Phillip J. Murphy is prepared to help you today. Over the years, we have helped a wide range of defendants in the Garden State, and we know how serious gun charges can be. With our help, you can mitigate legal consequences and fight for your Constitutional rights in an effective manner. Book your consultation today to get started with an effective defense strategy.