Fighting Grand Larceny Auto Charges In New York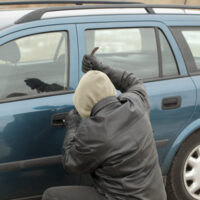 In February of 2022, the NYPD released a new set of crime statistics, showing a sharp increase in major crime throughout the city. Major crimes were apparently up 38% compared to last year, although the murder rate dropped slightly. While robbery and shooting incidents were both up about 33%, the most stunning statistic of all involved grand larceny auto – a crime that was up a staggering 93% compared to last year. But what exactly is grand larceny auto, and what should you do if you have been charged with this crime in New York?
The answer to the latter question is simple: You need to get in touch with a qualified criminal defense attorney as soon as possible. The sooner you start thinking about effective defense strategies, the better. An experienced defense attorney can help you mitigate legal consequences and avoid unnecessary penalties. This could make a real difference as you face considerable incarceration for grand larceny auto.
What is Grand Larceny Auto? 
According to New York Penal Law section 155.30(8), you will be charged with grand larceny in the fourth degree if you steal a motor vehicle worth more than $100. This obviously includes not just cars, but also motorbikes, scooters, and even potentially something like a golf cart. Note that the law doesn't specifically state that the vehicle needs to be street-legal – only that it needs to have a motor and have a value of over $100.
The definition of "stealing" is as follows:
"A person steals property and commits larceny when, with the intent to deprive another of property to or appropriate the same to himself or herself [or to a third person], such person wrongfully takes, obtains, or withholds such property from an owner of the property."
"Wrongfully taking" means taking property without the owner's consent, controlling that property for a period of time, and acting in a manner "wholly inconsistent with the owner's rights."
This is a class E felony offense, which means that you could spend up to four years in prison and a fine of up to $5,000. Note that this is not the same as "carjacking," which is typically prosecuted as a Class C felony that carries a much more substantial potential sentence of  15 years in prison.
How to Fight a Grand Larceny Auto Charge 
In many cases, it may be impossible to avoid criminal consequences for grand larceny auto. However, you can still work with a lawyer to mitigate consequences. This is especially true if this is your first offense, as you can realistically pursue a much less severe sentence with plea bargains, alternative sentencing, and other options.
Enlist the Help of a Qualified Attorney Today 
Dedicated New York criminal defense lawyer Phillip J. Murphy is prepared to assist you with your charges. Over the years, we have helped numerous defendants pursue positive results, and we can help you avoid needless excessive penalties. Grand larceny auto may be on the rise in New York, but that doesn't mean defendants should face unnecessarily harsh sentences. Book your consultation today, and we can immediately get started on an effective defense strategy.
Source:
nbcnewyork.com/news/local/major-crimes-up-38-in-nyc-so-far-this-year-nypd-says/3528311/