Fighting Prostitution Charges For Massage Parlors In New York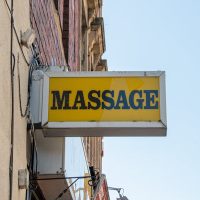 Massage parlors are very common in the modern era, and these businesses have a high rate of success. Shrewd, professional entrepreneurs start massage parlors to provide a valuable service to the community. Many massage parlor owners are very careful about the quality of their services and the reliability of their employees. However, the nature of this business means that criminal prostitution charges are always theoretically possible. So what might happen if you are accused of allowing prostitution at your massage parlor, and how do you fight these criminal charges?
A Recent Example of Massage Parlor Owners Facing Criminal Prostitution Charges 
On September 14th, the Justice Department announced that two individuals had been charged with numerous crimes associated with their massage parlors in Putnam, Westchester, New York, and Queens County. The individuals were charged with violating the Travel act and facilitating interstate commerce related to prostitution. The FBI accused them of exploiting vulnerable women for monetary gain and pretending to run legitimate massage parlors as cover for illegal operations. One of these individuals also allegedly participated in a massage session which involved the offer of a sexual act.
The Travel Act makes it illegal to travel or use certain facilities in order to further unlawful activities. The massage parlors in question apparently accepted customers from other states, and so this represents unlawful activity under the Travel Act. Interestingly, it seems as though the defendants have not actually been charged with prostitution. Instead the Justice Department has only announced charges of violating the Travel Act and conspiring to violate the Travel Act. This may suggest that prosecutors are not confident that they can achieve a conviction for prostitution. Nevertheless, both defendants still face a potential sentence of 10 years each for this offense.
Can a Massage Parlor Owner Be Held Accountable for the Actions of its Employees? 
In the above case, the Justice Department alleges that the defendants were actively organizing and scheduling sex acts in their massage parlors using cell phones and other communication tools. But what happens if the massage parlor owner is not aware that their employees are offering sex acts? In this case, it may be easier to escape criminal charges. However, the company itself may still be sued for any unwanted sexual activities. It is imperative that you take action as soon as you suspect that these crimes might be occurring in your workplace. If necessary, you should report the incidents to the local authorities.
Where Can I Find a Qualified, Experienced Criminal Defense Attorney in New York? 
If you're facing prostitution charges in New York, it is imperative that you take effective action as soon as possible. One option is to get in touch with a qualified, experienced New York criminal defense attorney – such as Phillip J. Murphy, Attorney at Law. A number of effective defense strategies may be possible based on your unique circumstances. To discuss the most appropriate course of action, reach out today and schedule your consultation.
Sources: 
justice.gov/usao-sdny/pr/putnam-valley-husband-and-wife-indicted-operating-prostitution-business-multiple
sace.ca/learn/what-is-sexual-harassment/