Guilt by Association: Can People Be Charged with A Spouse's Crimes?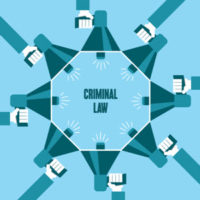 On January 17th, the New York Times featured an article on the criminal prosecution of Noor Zahi Salman, the wife of the man who opened fire at a nightclub in Orlando last year, killing 49 people. Seven months after the nightclub incident, Salman is now being prosecuted under anti- terrorism laws as a result of her husband's actions; accused of knowingly aiding and abetting her husband's "attempted provision and provision of material support or resources to the Islamic State" via a federal grand jury indictment last week.
If ultimately convicted of this charge, Salman could face life in prison.
Questionable, Vague Charges
Officials in Florida have responded that they welcome the indictment against Salman, who is the first person to be charged in connection with the incident, because "there is some relief in knowing that someone will be held accountable for that horrific crime."
What is happening to Salman raises questions associated with the guilt-by-association culture that we often find ourselves a part of. It is important to closely scrutinize the specific charges and tease out whether there is actual evidence linking a suspect like these to the actual crimes that they are being charged with. Upon closer inspection of Salman's case, the question of whether this is ethically speaking, right or not, has definitely come up for some; in other words, are there actual, well-articulated charges to bring against Salman at this time, with corresponding evidence, or are people simply looking for a scapegoat so that someone is punished for the crime, (given that the actual person responsible for the crime is now dead)?
Salman has also been accused of knowingly misleading F.B.I. agents and police officers after being interviewed for more than 12 hours on the day of the attack, although she has actively denied that she played any role in the assault, and instead insisted that she knew nothing and was herself the victim of domestic violence at the hands of her husband.
Anti-terrorism Laws
Usually passed after a horrendous and tragic event (like 9-11), anti-terrorism legislation has, at times, been criticized for suppressing certain First Amendment constitutional rights. As a result, civil litigation typically increases following harrowing events like these, and questions arise concerning what the Antiterrorism Act (ATA) does and does not allow for.
Specifically, in Salman's case, a question arises as to whether the ATA even authorizes a cause of action premised on secondary liability, where one party assumes liability (or fault) for another party's actions. A similar analogy to Salman's might be a charge brought against a bank if money from that bank was eventually used towards an act of terrorism.
Some have concluded, in fact, that the legislative history of the ATA civil provision is not enough to support a secondary liability cause of action.
Criminal Defense Attorneys Protecting Civil Rights
If you have been the victim of biased profiling policies, speaking with an experienced criminal defense attorney is imperative to ensure that your rights are protected (before you speak with law enforcement officials).
At Phillip J. Murphy, Attorney at Law, we have been practicing criminal defense law for more than 25 years, serving communities all over New York and New Jersey. Contact us today for a free consultation and find out how we can help you.
Resources:
nytimes.com/2017/01/17/us/wife-of-orlando-gunman-faces-antiterrorism-charge.html?_r=0
ir.lawnet.fordham.edu/cgi/viewcontent.cgi?article=5121&context=flr