How is a Jury Selected in a New Jersey Criminal Trial?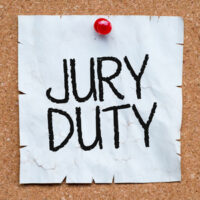 Approaching a criminal trial as a defendant can be stressful for many reasons. You may be facing the possibility of years in prison. Perhaps you're worried about your reputation, or the potential financial consequences. One of the most unsettling thoughts that may arise is the fact that you'll be putting your fate in the hands of twelve complete strangers. Jurors play an important role in our legal system, and they are ultimately responsible for how justice is doled out in New Jersey.
It's only natural to wonder how the jury will be selected as you approach your trial. After all, no one wants to be judged by a set of biased, morally compromised jurors. How are jurors selected in the Garden State? How do we ensure that these individuals are going to approach your case with a fair, unbiased mindset?
The Requirements for Being a Juror in New Jersey
In New Jersey, there are a number of requirements for jurors:
They must have the ability to read
They must understand English
They must be at least 18 years old
They must be a full U.S. citizen
They must be a resident of the county that has summoned them. For example, only residents of Bergen County can be summoned by Bergen County courts
No prior guilty pleas or convictions of indictable offenses
They must be mentally and physically able to perform all duties required of a juror
Selecting the Jury Panel
In a criminal trial, there are usually 14 jurors that need to be selected. 12 will deliberate, while the other two will serve as alternates in case certain jurors are not able to perform their duties. These jurors are always selected at random – either by drawing names from a box or with a computerized system.
The Voir Dire Process
Once a set of jurors has been randomly selected, they must go through a voir dire process. This is when the judge asks them a series of questions to determine whether they are fit to serve as a juror. These questions may involve a juror's qualifications, and a judge might also ask whether there are any factors that might impact their ability to act in a fair, impartial manner. For example, a juror whose father has been killed by a drunk driver might not be able to act in a fair manner if you are on trial for an aggravated DUI. To add another layer of integrity, all jurors must also swear an oath to "try the matter in dispute and give a true verdict according to the evidence."
Enlist the Help of a Qualified Criminal Defense Attorney Today 
If you are facing a criminal trial, it makes sense to do a little bit of research on your own into things like jury selection. That being said, you should also team up with a qualified defense attorney as soon as possible. These skilled professionals can answer all of your questions and guide you through the trial process in an efficient manner. They can also employ a number of strategies to help mitigate any legal consequences you might be facing. Don't hesitate to contact New Jersey criminal defense attorney Phillip J. Murphy for help.
Resource:
njcourts.gov/jurors/jurorprocess.html#:~:text=How%20is%20a%20Jury%20Selected,for%20each%20day's%20anticipated%20trials.
https://www.phillipmurphylawyer.com/what-is-a-certain-persons-offense-in-new-jersey/