Hundreds Of New York Protesters Arrested for Unlawful Assembly On One Night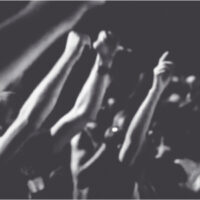 Following the tragic death of George Floyd, who was killed by a police officer during an arrest after the officer kneeled on his neck for more than eight minutes, as thousands took to the streets around the country in protest of police brutality, many were arrested for disorderly conduct and/or unlawful assembly, including New York City Mayor Bill de Blasio's own daughter.  We have previously discussed this issue of when protesting turns into a crime; in particular, when it is connected to rallies that end up involving assault and violent crimes, but what about the many peaceful protests that are resulting in arrests around in the country, or even tear gas from police officers?
Many have concerns that government officials are criminalizing behavior that is protected by the constitution in an effort to silence free speech, sometimes even going so far as to label protesters "terrorists," which carries significant criminal repercussions. As a result, it is crucial that anyone attending a protest is aware of their rights, and if they are facing charges, that they consult a criminal defense and civil rights attorney right away so that they do not end up being charged and convicted for protected political activity.
How New York Law Defines Disorderly Conduct & Unlawful Assembly
New York law defines unlawful assembly (a class B misdemeanor) as assembling with four or more others for the purpose of engaging or preparing to engage in "tumultuous and violent conduct likely to cause public alarm" or, if present at an assembly where that develops, one remains at that assembly "with intent to advance that purpose." Disorderly conduct requires that an individual has the intent to cause annoyance, alarm, or public inconvenience, or recklessly creates a risk of engaging in fighting, unreasonable noise, using abuse/obscene language, disturbing lawful assembly, obstructing traffic, refusing to comply with police orders to disperse in a public place, or creating a physically offensive or hazardous condition "by an act which serves no legitimate purpose."
However, as pointed out by New York State Senator Brad Hoylman, there is nothing unlawful about exercising First Amendment rights. Protesters must go beyond simply engaging in a peaceful protest in order for charges like these to be legal; for example, by preparing to engage in a riot and cause property damage, fighting, blocking traffic, being especially loud or threatening, loitering for certain purposes, falsely reporting emergencies, etc.
Know Your Rights
If you are attending a protest, it is crucial that you know your rights. Keep in mind that:
Your rights are strongest on public property—parks, streets, sidewalks, etc. Just be careful not to block use of these areas, such as blocking the entrance of a building
You have the right to take pictures in these public areas of anything in plain view
Private property owners can establish rules and restrictions on private property, and this includes rules related to taking pictures and videos
Certain types of protests—for example, marches, parades; anything that involves blocking traffic or street closures; can require permits
If your rights are violated, make sure that you record any and all information about the police officer and any witnesses and take pictures of/document everything
If You Are Facing Charges Related to Protesting In New York, Contact The Best in Civil Rights & Criminal Defense
If you have been charged with any crimes in conjunction with protesting, contact New York criminal defense attorney Phillip J. Murphy today for experienced, committed legal representation.
Resource:
wmur.com/article/reports-new-york-city-mayors-daughter-arrested-alongside-protesters-for-unlawful-assembly/32726003
cnn.com/2020/05/28/us/video-george-floyd-contradict-resist-trnd/index.html
https://www.phillipmurphylawyer.com/new-york-appeals-court-effectively-rules-that-individuals-cannot-be-prosecuted-for-what-they-post-on-social-media/