Husband And Wife Arrested For Murdering Wife's Ex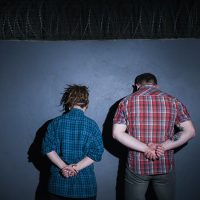 We all know how difficult exes can be. But despite the fact that many can be annoying and tiresome, there's nothing we can really do to make them go away. One New York couple couldn't accept this, however – and now they're facing a range of charges for the murder of the wife's ex-husband. This story should serve as a cautionary tale for anyone who gets dangerous ideas of how to "deal with" their past lovers.
Elaborate Murder Plot Was Unsuccessful 
In 2020, a New York couple decided to kill the wife's ex-husband. They planned the murder as best they could, purchasing a range of supplies and burner phones. Having planned their crime, they waited. The ex showed and took custody of his children, who were staying at the defendants' home. He then returned them later that night. At this point, the defendants apparently carjacked him, murdered him, and drove the body from their home in Newburgh to Beacon. After apparently dumping the body and the victim's vehicle, one defendant walked over a mile, called a cab from a gas station, and took a taxi home.
In an effort to cover their tracks, the defendants continuously purchased new burner phones while constantly changing their phone numbers. They also Googled questions like "how to view your location history." During this time, they purchased equipment necessary to chop up a human body. They also purchased steel trash cans, angle grinders, charcoal grates, an ax, bundles of firewood, and a flame lighter. All of these purchases were tracked and recorded by the authorities.
The defendants were eventually charged with one count of carjacking resulting in death each, which carries a maximum penalty of life in prison. In addition, they each face a count of conspiracy, which carries a maximum sentence of five years in prison. According to the US Attorney in charge of the case:
"A little over three years ago, Nicholas and Jamie Orsini allegedly plotted to and did kill Jamie's ex-husband, Steven Kraft.  Their alleged scheme was sophisticated — it involved burner phones, stealing and dumping Kraft's car, and, ultimately, disposing of Kraft's body.  In doing so, the Orsinis denied Kraft's family — including Kraft's children with Jamie — the dignity of having a proper burial.  This complaint shows that no matter how well you cover up your heinous act, law enforcement will not relent until they have uncovered your crimes."
Where Can I Find a Qualified Defense Attorney in New York? 
If you have been charged with murder or any other serious violent crime, you should turn to a qualified, experienced New York criminal defense attorney as soon as possible. Choose Phillip J. Murphy, Attorney at Law, and you can approach this difficult situation in a confident, efficient manner. There are many potential strategies that defendants can employ when facing murder charges. Book your consultation today to fight for your rights and get started with an effective defense strategy.
Source: 
justice.gov/usao-sdny/pr/husband-and-wife-charged-connection-murder-wifes-ex-husband