Indigent Defendants' Lawsuit Declares Public Defender System Significantly Compromised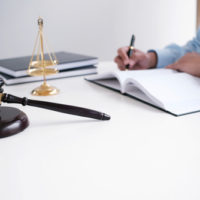 A class-action lawsuit that was just allowed to move forward by a judge in Louisiana could have implications for the criminal justice system around the country. The lawsuit was filed by a group of 13 prison inmates who allege that their constitutional right to counsel was denied due to an insufficiently funded public defense system.
The complaint specifically alleges that the public defender system has essentially created a "two-tiered justice system"; separating those who have the money to afford good legal representation, and those who do not, which results in the poor largely being cycled through the system without the adequate representation that the Constitution affords each and every citizen (regardless of income).
The Allegations
The lawsuit also seeks certification from the court for a class action suit on behalf of anyone and everyone who is indigent and facing criminal charges for non-capital offenses punishable by imprisonment and requests a declaration that the inmate plaintiffs, as a class, have been denied their right to counsel and equal protection under the law. In addition, it asks the court to appoint a monitor to supervise this public defender program until a system which provides for effective representation regardless of income exists. Each of the plaintiffs faces years or decades in prison if found guilty, and many of them were not allotted a single confidential meeting with an attorney, at any point.
Louisiana Is Not Alone
Unfortunately, these same issues plague other jurisdictions: For example, in about 40 percent of New Jersey's municipal courts, there are no paid public defenders whatsoever. Instead, private-practice defense attorneys are chosen at random and forced to work for nothing; a practice that many have labeled unconstitutional. As a result, sometimes lawyers without trial experience are called upon to defend individuals accused of drug possession, assault, drunken driving, and other crimes that carry jail time.
Similarly to Louisiana, New Jersey has thus been called a "two-tiered system," and progress in changing it has been slow, even though the New Jersey Supreme Court called this practice potentially unconstitutional and unfair in 1992. How can it possibly be just if the prosecutor is paid but the defense attorney is not?
New York has a similar system, albeit more complicated: counties either chose to create a public defender's office, enter into a contract with Legal Aid, or rely on an assigned rotation system, where the lawyers are paid according to the state fee schedule.
Experienced Criminal Defense & Civil Rights Representation
Don't allow yourself to get lost in the system. Individuals who are innocent need the same level of legal representation as those who committed the crimes they are being accused of. You do not want to rely on someone who has zero experience in criminal law and who has never been in a criminal court before.
Contact Phillip J. Murphy today; he has been serving clients accused of crimes throughout New Jersey and New York for more than 25 years.
Resource:
nola.com/crime/index.ssf/2017/10/class-action_lawsuit_challengi.html