Is Hoarding PPE Illegal In New York?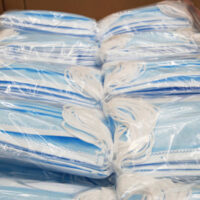 During Covid-19, many savvy entrepreneurs have adapted to the changes in the economy, offering New Yorkers valuable services in the face of the pandemic. Companies have suddenly started selling masks en masse, and various types of sanitization equipment have become highly sought after. But could you actually experience legal consequences for trying to profit from Covid-19? The answer is yes – but only under the right circumstances. One example is hoarding PPE, and this is something a number of New York entrepreneurs have been charged with in recent months and years.
If you're facing charges after hoarding PPE in New York, it makes sense to get in touch with a qualified, experienced criminal defense attorney as soon as possible. Make no mistake, New York takes this crime very seriously, and you can expect considerable consequences if you are convicted. With the help of a criminal defense attorney in New York, you can fight for your rights and avoid jail time, fines, and other penalties.
Past Cases in New York 
Many individuals have experienced legal consequences for these kinds of crimes in New York. On September 8th of 2021, the Department of Justice announced that two Long Island businessmen had pleaded guilty to hoarding and price gouging of "scarce personal protective equipment." These two brothers own a toy company, and admitted that they had obtained millions of three-ply surgical masks from China for about 40 cents each. They then proceeded to sell these masks to the State of Oklahoma and other government entities for $1.65 per mask. These individuals were forced to pay $1 million in restitution and a separate fine of up to $10,000. They also face up to one year in jail.
In 2020, a New York businessman purchased hundreds of thousands of face masks for 7 cents each before selling them for $1 each. For the most part, he was selling to organizations that served vulnerable senior citizens and children battling Covid-19. He was also charged with price-gouging and hoarding. He also faced a potential jail sentence of one year.
The US Defense Production Act 
These individuals were charged under the US Defense Production Act. Donald Trump issued an executive order in March of 2020 that made it illegal to hoard medical supplies that are considered "scarce." Under the US Defense Production Act, it is also illegal to sell these scarce medical products at excessive prices. Many of the people who are breaking these laws are unaware of them, as they assume that they are simply conducting business in a profitable manner.
Enlist the Help of a Qualified Attorney Today
 For help from a skilled New York criminal attorney, reach out to Phillip J. Murphy, Attorney at Law. We have considerable experience with a wide range of criminal cases, and we have helped numerous defendants in New York strive for positive legal outcomes. With our help, you can fight against these charges and protect your business interests. Book your consultation today, and we can immediately start working on an effective defense strategy together.
Sources:
news.bloomberglaw.com/coronavirus/n-y-businessman-accused-of-hoarding-masks-protective-equipment
justice.gov/usao-edny/pr/long-island-businessmen-plead-guilty-hoarding-and-price-gouging-scarce-personal