Is It Illegal To Change Your Odometer Before Selling Your Car?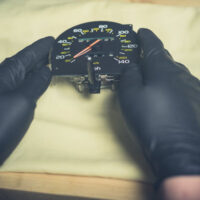 As we all know, cars with fewer miles are worth more in the second-hand market. Why? Because if a car hasn't traveled very far, it hasn't been used much. And if it hasn't been used much, then its various parts do not have a high chance of failing. But what happens when you intentionally alter your odometer before selling it? This is known in the auto world as "odometer fraud," and it is illegal. If you are caught engaging in this criminal act, you could face severe consequences. But just how bad can these consequences be?
If you have been charged with fraud of any kind, it makes sense to get in touch with a qualified, experienced criminal defense attorney as soon as possible. These legal professionals can help you strive for the best possible outcome in a highly effective manner. With the right legal assistance, you can mitigate any potential criminal consequences you might be facing. It's best to get in touch with a qualified attorney as soon as possible if you're serious about achieving solid results.
An Example of Odometer Fraud in New Jersey
To get a sense of just how serious this crime can be, it's helpful to examine an example of odometer fraud in New Jersey. On May 19th of 2022, it was reported that two individuals in New Jersey had been charged with conspiracy to commit securities fraud after engaging in odometer fraud (1). One of these two individuals owned a used car dealership, while the other was an employee. Both engaged in a scheme to sell cars with extremely high mileage by altering the odometer readings. As a result, car buyers purchased these vehicles at extremely inflated prices.
The National Highway Traffic Safety Administration celebrated this as not only a victory for the justice system, but also a triumph for road safety. The NHTSA even has its own Deputy Administrator Dr. Steven Cliff explained:
"Our top priority is keeping people safe on the road. Anyone who thinks they've been a victim of odometer fraud, needs to contact their state enforcement office. They can also visit our website, NHTSA.gov, for helpful information on how to detect a vehicle that may have had its odometer rolled back."
This might explain why odometer fraud is taken so seriously by authorities. If a driver believes they are operating a vehicle that has barely been driven, they may neglect important repairs, putting everyone on the road in danger (2).
The defendants admitted they had sold almost 120 cars with false odometer readings, resulting in total price inflations of close to $675,000. Both individuals face a maximum of 5 years in prison, and considering the extent of this scam, they may very well face the maximum sentence.
Enlist the Help of a Qualified Attorney Today 
For help from a skilled New Jersey criminal defense attorney, look no further than Phillip J. Murphy, Attorney at Law. Over the years, we have assisted numerous defendants with a number of charges, including those related to fraud. We know that this situation might seem daunting, but the best thing you can do is take action with the help of a private defense attorney. Reach out and book your consultation today to get started.
Sources: 
justice.gov/opa/pr/two-new-jersey-men-plead-guilty-pennsylvania-scheme-involving-odometer-tampering-and-title
miamiherald.com/news/nation-world/national/article261634532.html