Is It Legal To Pay Employees "Off The Books?"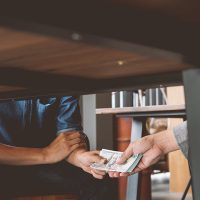 If you've worked your fair share of odd jobs in the United States, you might have been paid "under the table" or "off the books." This is a common tactic for small and medium-sized businesses who want to conceal income, avoid taxes, and generally avoid a considerable amount of paperwork. But what happens if you do this in New York? What kind of penalties might you face, and how can you avoid legal penalties if you get caught? This issue is becoming more and more prevalent in the United States as the economy continues to slide and entrepreneurs search for ways to cut corners wherever possible.
If you're facing charges for these offenses, it makes sense to get in touch with a qualified, experienced criminal defense attorney in New York as soon as possible. These legal professionals can help you mitigate any potential consequences you might be facing, and you can strive for the best possible results with their guidance. With the right approach, it may be possible to avoid consequences altogether. That being said, it's always a good idea to book your consultation as soon as you're able.
Donut Shop Owners Sent to Prison for Paying Employees Off the Books 
If you want to know how seriously the Department of Justice takes this issue in New York, just consider a recent report from July 13th. In this report, the DOJ announced that donut shop owners had been sentenced to prison time for a range of tax-evasion-related offenses, including paying employees under the table and concealing millions of dollars in cash sales.
After being charged with conspiracy to defraud the United States, tax evasion, and helping to file false corporate tax returns. The owners were a family group consisting of a mother, a father, and a son. The son got away with 10 months in prison, while the mother was sentenced to 20 months. The father, being the apparent leader of the entire operation, was sentenced to 30 months in prison.
The incident stems from a chain of three "Drippin Donuts" locations in Rome and New Hartford. Over a five-year period from 2012 to 2017, this family team successfully concealed about $4.5 million in cash sales. This meant that they were able to dodge $2 million in corporate taxes by depositing cash directly into their personal accounts rather than into their business accounts. They also caused their accountant to file false corporate tax returns with the IRS, and they funded numerous personal expenditures with unreported corporate income.
Perhaps most notably, some employees were never paid an official paycheck, and they were paid entirely in cash. Others were paid cash for overtime.
Enlist the Help of a Qualified Attorney Today 
If you've been searching for a New York criminal defense attorney, look no further than Phillip J. Murphy, Attorney at Law. Over the years, we have helped numerous defendants with a range of issues, including offenses related to businesses. We know that facing potential prison time for payments under the table can be incredibly daunting, but you're not alone in this fight. With our help, you can strive for the best possible results in a highly confident and efficient manner. Book your consultation today.
Sources: 
justice.gov/opa/pr/new-york-donut-shop-operators-sentenced-prison-tax-evasion
blog.completepayroll.com/is-it-legal-to-pay-employees-off-the-books