Is It Possible To Incorporate Neuroscience Into The Courtroom While Also Safeguarding Liberties?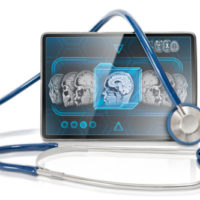 The U.S. Bill of Rights enshrines certain individual liberties and freedoms in our culture that the law, governments, courts, etc. cannot infringe upon; rights that include freedom from self-incrimination and the right to a speedy trial by an impartial jury.
We've previously discussed the use of neuroscience to argue for mitigating circumstances in a criminal case, such as a brain abnormality that affected a defendant's behavior. However, what about the potential pitfalls of using modern technology to peer into people's brains, from a civil rights perspective? As technology advances, is it possible that these advances could be abused in legal proceedings? How can we ensure that any neuroscience used in the courts does not violate an individual's rights, i.e. that you own brain isn't used as evidence against you? This is the precise subject of a review published in the journal Frontiers in Neuroscience, as discussed in this recent Inside Science article.
MRI Machines as "Lie Detector Tests"… And More
Advances in techniques that doctors and neuroscientists can use to examine the human brain allow researchers to make inferences about what a person is experiencing or thinking, all due to measuring blood flow or electrical activity. One "advance" that has garnered a lot of attention has been the hypothetical use of MRI scans to detect whether someone is telling the truth (effectively turning an MRI machine into a polygraph test).
In fact, MRI machines may go even further than that: scientists have been able to use these machines to reconstruct movies based on the visual cortex, implying that similar technology could one day record dreams or memories as well. Still, thus far, courts have been hesitant to embrace the ability for these techniques to deliver solid evidence into the courtroom due to their newness and lack of testing. However, that doesn't mean that those studies necessary to convince a judge aren't on their way, in the near future, and a single yes from a judge might set a far-reaching precedent.
Reexamining Civil Liberties
With each new scientific advance, it is crucial that we, as a society, reevaluate and reinterpret to what extent our civil liberties—such as protection against unreasonable search and seizure—could possibly be eroded by the use of and reliance on these techniques.
Take, for example, the technique known as electroencephalography (EEG), which records neurological responses signifying that we recognize something. This technique could hypothetically be used to determine if a defendant or witness recognizes something, which could be self-incriminating. Would a brain scan like this be considered physical evidence? Would the test first require a suspect's consent? These are some of the many questions that must first be answered.
New York & New Jersey Criminal Defense Attorneys
If you have been accused of a crime and fear that the prosecution could misuse scientific neurological evidence against you, contact Phillip J. Murphy today to find out how we can help. We have been serving communities throughout New York and New Jersey for more than 25 years.
Resources:
insidescience.org/news/brain-scans-courts-prosecutors-dream-or-civil-rights-nightmare
frontiersin.org/articles/10.3389/fnins.2017.00621/full