Is Torture Illegal In New York?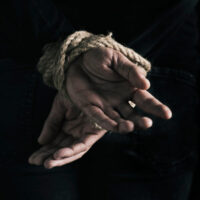 Torture is one of the most universally derided acts, but is it actually illegal in the United States? Can you go to jail if you torture someone in New York? What is the actual definition of torture in a legal context? These are all important questions, especially if you find yourself charged with torture in New York. The truth is that you may face considerable legal consequences for torture in the Empire State.
If you have been charged with torture-related crimes, you need to get in touch with a qualified, experienced criminal defense attorney in New York as soon as possible. Book your consultation today, and we can help you mitigate this situation in the most efficient, confident way possible. Torture may be frowned upon by society, but there's no sense in accepting needlessly excessive penalties. In addition, you should know that prisoners are protected from torture. If you feel you have been tortured while incarcerated, get in touch with a criminal defense attorney immediately.
Man Charged with Torture 
One way in which torture can be illegal is if you torture victims during wartime. On February 18th of 2022, a man from Pennsylvania was arrested on torture charges for incidents that happened during his tour of Iraq in 2015. The 53-year-old was accused of suffocating one victim and threatening to cut off the fingers of other prisoners of war. He was allegedly threatening these individuals because they were likely to uncover his illegal business activity of exporting weapons parts to Iraq. This individual faces a maximum sentence of 20 years for each charge of torture.
The Humane Alternatives to Long-Term Solitary Confinement Act 
Also known as HALT, the Humane Alternatives to Long-Term Solitary Confinement Act was passed in March of 2021. The New York State Senate passed this new law largely as a response to the United Nations, an organization which defines solitary confinement as a type of torture if it occurs for more than 15 days. If you have been subjected to solitary confinement for more than 15 days, you can hold the authorities accountable for this crime.
What is the Definition of Torture in the United States?
Torture is defined by US law as "acts specifically intended to inflict severe physical or mental pain or suffering." Generally speaking, this law only applies to acts of torture that occur outside the United States. The Federal government has jurisdiction whenever the offender is a US national or if the offender is within the United States. The nationality of the victim is largely irrelevant.
Enlist the Help of a Qualified Attorney Today 
Whether you've committed acts of torture or you're being tortured as an inmate, it makes sense to get in touch with an experienced New York criminal defense attorney as soon as possible. Reach out to Phillip J. Murphy, Attorney at Law, and we'll fight for your rights in an effective, confident manner. Torture is a serious crime, and it deserves to be approached seriously. Book your consultation, and we can immediately get started on an effective action plan.
Source:
justice.gov/opa/pr/pennsylvania-man-charged-torture