It Could Become a Crime to Declaw Cats in New Jersey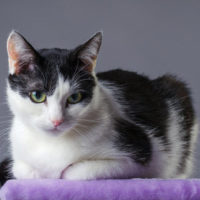 On January 23rd, New Jersey State lawmakers will vote on whether to send Governor Christie a bill that would make it illegal for veterinarians to declaw cats in the state; a procedure known as onychectomy. Specifically, although there would be exceptions for medical purposes, any veterinarians (or anyone else) found engaging in the practice, on any animal, would be violating criminal state animal cruelty statutes and face a penalty of up to $1,000 or six months in jail.
The bill has not yet cleared the Assembly or the state Senate, where it would first need to be posted for a vote in committee.
Arguments For And Against
According to the bill's sponsor, Assemblyman Troy Singleton, declawing should be outlawed because it is barbaric and only done out of convenience (i.e. to prevent cats from damaging furniture), not out of necessity.
However, the New Jersey Veterinary Association is opposed to the legislation, stating that bone is not cut during the procedure and the pain medicine available today makes it humane for pets to have the process performed on them.
Current Anti Cruelty Offense Law in New Jersey
Less than four years ago, New Jersey revisited its anti-cruelty laws, increasing criminal and civil penalties for certain animal cruelty offenses. Perhaps most relevant to the issue at hand, the new law revised the criminal penalties for specific offenses; i.e. to knowingly, or recklessly torment, torture, main, hang, poison, or unnecessarily or cruelly beat, cruelly abuse, or needlessly mutilate a living animal or creature. The list of banned activities involving animals exhaustingly inclusive, and would now specifically include language to the effect of:
"a person who shall… perform, or cause to be performed, an onychectomy (declawing) or flexor tendonectomy procedure on a cat or other animal in violation of… shall forfeit and pay a sum according to the following schedule, to be sued for and recovered, with costs, in a civil action by any person in the name of the New Jersey Society for the Prevention of Cruelty to Animals or a county society for the prevention of cruelty to animals, as appropriate, or, in the name of the municipality if brought by a certified animal control officer or animal cruelty investigator…"

New Jersey Criminal Defense Attorney Here To Answer Your Questions
If you are concerned that you could be potentially liable for committing a criminal animal cruelty offense, it's always a good idea to speak with an experienced criminal defense attorney right away.
Phillip J. Murphy is available anytime to answer questions and provide you with advance on criminal legal issues. Contact our office today if you live or work in Bergen County or a surrounding area.
Resources:
nj.com/politics/index.ssf/2017/01/ban_declawing_of_cats_nj_lawmakers_will_cast_their.html
njleg.state.nj.us/2016/Bills/A4000/3899_I1.PDF
judiciary.state.nj.us/legis/P.L.%202013,%20c.88%20-%20Revises%20penalties%20for%20certain%20animal%20cruelty%20offenses.pdf