Lying About Being Sick To Ditch Work? You Could Face Prison Time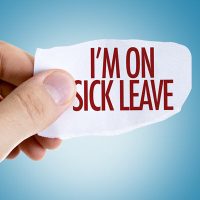 Almost everyone has lied about being sick at least once in their life. Schoolchildren often attempt this "scam," although their parents are usually very good at detecting fake illnesses. But employees are also no stranger to this common lie, and many of us have faked a coughing, sneezing voice on the phone to our bosses in a desperate attempt to stay home. You might think that this innocent lie is just that – innocent. But in some rare cases, taking a fraudulent sick leave may put you behind bars.
New York Correction Officers Face Ten Years in Prison for One-Year Sick Leave 
A one-year sick leave sounds great – especially if you're not actually sick and you're enjoying the full benefits of your salary without having to work a single day. That setup starts to lose its appeal, however, when you face ten years in prison in exchange for your one-year, all expenses paid vacation. This is a situation that three correctional officers are now facing in New York.
On November 10th, it was reported that these officers had been charged with fraud after dodging their duties at Rikers Island by feigning illnesses and submitting false medical documentation. One employee was able to receive $160,000 since March 2021 by claiming that he suffered from "vertigo" and related side-effects after taking the Covid-19 vaccine. Over the next year, he submitted over 100 fraudulent medical notes that detailed his journey through physical therapy and other treatment. When the medical providers were contacted, it quickly became clear that the defendant attended none of these appointments.
Another employee obtained over $80,000 in salary by going on sick leave over the same period, claiming a number of injuries and illnesses were preventing her from working. Her fiancé – also a correctional officer – obtained over $140,000 during the same period. In contrast to the other defendants, this individual actually attended medical appointments. He often wore a sling or a cane. However, further investigation determined that this individual was perfectly healthy – even engaging in activities like bowling.
Each of these defendants face a maximum prison sentence of 10 years. Ironically, they may end up in the same workplace that they sought to avoid – only on the other side of the bars this time. It goes without saying that Covid-19 fraud is absolutely rampant these days, and the authorities are slowly starting to crack down on anyone who "played the system" during the pandemic.
Where Can I Find a Qualified, Experienced Criminal Defense Attorney in New York? 
If you've been searching for a qualified, experienced New York criminal defense attorney, look no further than Phillip J. Murphy, Attorney at Law. Over the years, we have helped numerous defendants – including those charged with fraud and other related crimes. We know that facing criminal charges can seem like a daunting experience – but you're not alone in this battle. Book your consultation today, and you can fight for your rights effectively with a solid defense strategy.
Sources:
justice.gov/usao-edny/pr/three-new-york-city-correction-officers-charged-fraud-lying-stay-sick-leave-over-year
dol.ny.gov/report-fraud