Man In Cumberland County Found With Multiple Improvised Explosives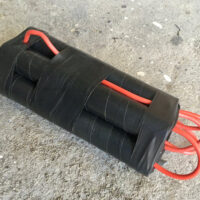 Creating homemade explosives is illegal in New Jersey. If you are caught engaging in this behavior, you will face significant legal penalties. It doesn't matter whether you planned to hurt anyone, and it doesn't matter whether you even planned to detonate the explosives. The authorities will not care whether you created the bombs purely for scientific study.
If you are caught with homemade explosives in New Jersey, it's important to get in touch with a qualified, experienced criminal defense attorney as soon as possible. With their help, you can mitigate any potential legal consequences for these charges. Even though making homemade bombs is illegal in New Jersey, there is no reason why you should face unnecessarily harsh penalties. A qualified criminal defense attorney can help you fight for your rights in an effective manner.
Man Found With Multiple Bombs and Precursor Materials 
On October 7th of 2021, it was reported that a 63-year-old man had been found in Cumberland County with multiple homemade explosives. He also possessed a range of precursor materials and other bomb-making equipment. Among his collection was a metal can filled with potassium perchlorate and aluminum, several "pipe bomb" type explosives, precursor chemicals, hobby fuse, time fuse, and a range of empty plastic cylinders. It is not clear why this individual was making so many bombs.
He has been charged with a number of crimes, including possession of a destructive device, unlawful making of a destructive device, and improper storage of explosive materials. The first two charges carry a penalty of up to 10 years in prison each, plus fines of $10,000. Unlawful storage of explosives carries a maximum penalty of one year in prison.
What is a Destructive Device? 
A destructive device is a term used by the ATF to describe a wide range of different firearms and explosives. These might include grenade launchers, pipe bombs, missile launchers, grenades, and many others. If a homemade explosive has a propellant charge of more than four ounces, it is considered a destructive device.
It's interesting to note that destructive devices are technically legal in the United States. As long as you register the destructive device with the ATF, you are legally allowed to possess it. This means that under certain circumstances, it could be legal to own something like a missile launcher. Realistically speaking, however, this is a very unlikely scenario. Your application to register these kinds of weapons would most likely be rejected. In addition, you would need to show that you are capable of safely storing the explosives, and the only facility that is capable of safely storing these things would be a military installation of some kind.
Book Your Consultation with a Qualified Attorney Today 
If you are facing criminal charges, reach out to skilled New Jersey criminal attorney Phillip J. Murphy. With our assistance, you can fight for your rights in an effective manner. Book your consultation today, and we can immediately start working on an effective defense strategy together.
Source:
justice.gov/usao-nj/pr/cumberland-county-man-charged-manufacturing-explosive-device-and-possessing-multiple