More FTX Leaders Face Charges As Feds Crack Down On Crypto "Pyramid Schemes"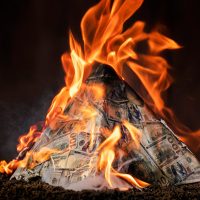 For years, a number of financial experts have criticized the crypto world as being little more than a giant pyramid scheme. The argument is simple: Crypto has no inherent value, and the only way to increase the value of these tokens is to attract new investors. The money keeps coming in, but there is no underlying value – or at least that's what the critics say. Well, it seems like the United States government is slowly starting to agree with this sentiment, and a number of crypto entrepreneurs are feeling the heat as a result. Bankman-Fried may just be the first of many to face charges, and everyone involved in this industry must take note and protect themselves against potential criminal charges.
FTX Execs Charged as the Dominos Begin to Fall 
On December 22nd, it was reported that Sam Bankman-Fried wasn't the only FTX exec that was set to face charges. In a stunning development, a plane carrying both Carline Ellison and Gary Wang was rerouted from Bahamian airspace and sent directly back to the United States. Both of these individuals have now pleaded guilty to fraud and will likely face consequences similar to SBF. US Attorney Damian Williams also sent out a warning to virtually anyone who was involved in the FTX operation, stating:
"Let me reiterate a call that I made last week: if you participated in misconduct at FTX or Alameda, now is the time to get ahead of it. We are moving quickly, and our patience is not eternal." 
Ellison is being accused of manipulating the price of the FTT token and misappropriating FTX customer funds for Alameda Research's trading activity. Wang is being accused of creating FTX's software code that allowed Alameda Research to "divert" FTX customer funds. This is the infamous "back door" that gave these execs what the authorities are now calling an "unlimited line of credit." Many of these funds were used to buy condos and other personal expenses.
"Crypto Queen" Remains at Large 
It's worth pointing out that while the FTX story is making headlines, there are many other crypto entrepreneurs who are facing consequences for allegedly fraudulent activity. This suggests that the FTX story is just a small part of a larger effort to crack down on the crypto industry. On December 16th, the Department of Justice reported that an individual known in the crypto world as the "Crypto Queen" was still at large, despite the authorities' efforts to track her down and charge her with her involvement in the OneCoin fraud scheme.
Where Can I Find a Qualified Criminal Defense Attorney in New York?
If you've been searching for a qualified, experienced New York criminal defense attorney, look no further than Phillip J. Murphy, Attorney at Law. Over the years, we have helped numerous defendants push back against a range of charges. We know that allegations of fraud and pyramid schemes can be quite daunting – especially if your intention was to run a legitimate business. Book your consultation today, and you can get started with a solid defense strategy.
Sources: 
kitco.com/news/2022-12-22/FTX-Alameda-execs-Ellison-and-Wang-plead-guilty-and-are-working-with-DoJ-SBF-lands-in-New-York-to-face-charges.html
justice.gov/usao-sdny/pr/co-founder-multi-billion-dollar-cryptocurrency-pyramid-scheme-onecoin-pleads-guilty