Most Female Criminal Defendants Are Abuse Victims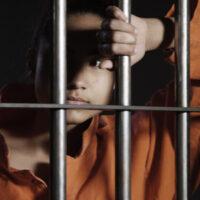 According to studies, approximately  86 percent of women in jail experienced sexual violence, 77 percent partner violence, and 60 percent caregiver violence. That means that a majority of females who are prosecuted as criminal defendants were likely simply engaged in self-defense, but have wrongfully been turned into criminal defendants.
Take, for example, the case of LeToya Ramseure:  After fatally shooting her abusive partner in 2018, she faced criminal charges, and Because she was unable to afford an attorney or nail, she ended up in jail.    Or Cynthia Brown, who was released 15 years into a life sentence after killing the man who forced her into sex trafficking.
Basic Mistakes Made in Deciding to Charge Them
These women are not alone: Simply too many women are facing charges for fighting back instead of being harmed or killed at the hands of their abuser. And even if these victims are eventually acquitted, there is always a significant penalty enacted when it comes to everything else that suffers in their lives while they are locked up – family, job prospects, and everything else affected by the collateral consequences of a conviction. Many of them not only had documented histories of being domestic violence victims, but protection orders in place that their abusers violated; all of which should have been checked and taken into account by authorities before pressing (and deciding not to press) charges.
How Can We Fix the Problem?
There are a number of individuals in the system that are involved, every step of the way, in ensuring that so many women are in jail when they arguably should not be: The police doing the arrests, the prosecutors deciding whether or not to charge someone, judges who old or release individuals pending their cases, court staff, whose action or inaction can delay case outcomes, and corrections agencies that decide how to respond to alleged violations of supervision conditions.  As a result, unfortunately, only addressing one of these factors risks ignoring other contributors. In order to ensure that justice is done, not only must there be changes when it comes to deciding to charge certain individuals, but also in assigning defense counsel at the earliest stages of a case and creating specific provisions to deal exclusively with the disposition of certain cases, such as those involving self-defense.
Some jurisdictions are experimenting with providing the following in an effort to find solutions to the issue of a dramatic growth in women in jail:
Declining to arrest people accused of minor offenses, such as misdemeanor nuisance offenses
Deciding to provide citations in lieu of arrest for certain low-level offenses such as driving with a suspended license
Intervening and providing pre-arrest crisis intervention for people involved in a mental health crisis
Offering pre-booking diversion opportunities for certain low-level offenses related to mental illness, poverty, and substance abuse
Contact an Experienced, Dedicated Criminal Defense Attorney
If you have been wrongfully arrested and charged, contact our New York criminal defense attorneys at the office of Phillip J. Murphy today to find out how we can use our more than 30 years of experience defending the innocent in New York and New Jersey to help protect you.
Resource:
inquirer.com/news/michael-coard-letoya-rameseure-criminal-justice-domestic-violence-jenice-armstrong-20200109.html
https://www.phillipmurphylawyer.com/new-sexual-abuse-charges-arise-as-new-jersey-child-victims-act-goes-into-effect/