New Bill Could Prevent New York Vehicles From Reaching Certain Speeds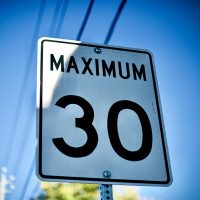 Car culture has been a central part of the American experience ever since the emergence of the first commercially-available "horseless carriages." Many auto enthusiasts appreciate vehicles with powerful engines, and some enjoy the feeling of traveling at high speeds. In the "Land of the Free," it might seem unthinkable for the government to install a device that physically prevents your vehicle from reaching a certain speed. However, a new bill introduced in New York might do just that.
New Bill Targets Speeders with Unusual Strategy 
A new bill introduced in New York could potentially force the city's "worst speeders" to install devices in their vehicles that prevent them from reaching certain speeds. These devices are known as "speed governors," and they would need to be installed at the owner's expense. The concept would be similar to an ignition interlock system often required for serial DUI offenders.
In order to qualify for this consequence, you would need to commit multiple speeding or red light violations within the limits of New York City in a relatively short period of time. New York City already has certain programs associated with drivers who have more than 15 speed camera infractions, and these drivers must attend mandatory driver safety courses. The same consequence applies to those who have at least 5 red light offenses.
So what would this actually look like? In theory, drivers who have these speed governors installed would not have the ability to exceed a velocity of 30 miles per hour. This is because on most streets in New York City, the speed limit is 30 miles per hour. Under the new bill, the installation of speed governors would be mandatory for drivers who receive more than 11 points on their license within an 18-month period. The same consequence would be required for drivers who receive at least six speed camera tickets violations or red light tickets within one year.
Will This Bill Actually Pass? 
While the concept of mandatory speed governors seems daunting, it's important to note that this bill is simply being introduced. It is not clear whether it will actually pass, and there is zero precedent for a similar bill passing anywhere else in the nation. If this becomes law, New York will become the first state in the entire nation to attempt such a drastic strategy. With the rise of 5G, AI, and other "smart" technology, some believe that it is only a matter of time before the authorities are able to remotely shut off vehicles or lower their speeds.
Where Can I Find a Qualified, Experienced Defense Attorney in New York? 
If you're facing a speeding ticket or a more serious traffic offense, be sure to get in touch with a qualified, experienced New York criminal defense attorney as soon as possible. Phillip J. Murphy, Attorney at Law has helped numerous drivers fight charges over the years, including DUIs and reckless driving violations. Book your consultation today to discuss your unique situation in more detail and get started with an effective defense strategy.
Source: 
roadandtrack.com/news/a44712994/new-york-bill-aims-to-place-governors-in-cars-with-too-many-speed-camera-tickets/