New Jersey Couples Accused Of Welfare Fraud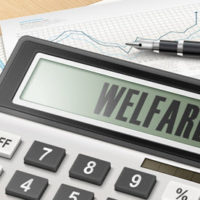 On June 28th, 14 people were arrested in New Jersey and charged with public-assistance fraud in connection with federal and state raids that are allegedly linked to approximately $2 million. According to the prosecutor's office, those accused wrongfully collected hundreds of thousands in Medicaid, nutrition assistance, Social Security, utilities assistance, federal housing funds, Sandy relief funds, food, and energy and housing funds. The agencies involved in the investigation include the FBI, the New Jersey Treasury Department, Social Security Administration, state comptroller Medicaid Fraud Division, and the Ocean County Prosecutor's Office.
The raids were linked to Lakewood, a town in New Jersey that has surpassed a population of 100,000 and where approximately 32 percent of people live in poverty. Each individual is now facing federal charges of second-degree theft by deception (a state crime) for under-reporting their incomes over a period of seven years in order to collect public-assistance benefits they supposedly were not entitled to receive. Several are also facing separate counts of conspiring to steal government funds, each of which carries a penalty of up to five years in prison and a $250,000 fine.
"Theft by Deception"
Under New Jersey statutes, the crime of welfare fraud (or "theft by deception") involves collecting benefits for which you are ineligible. For these reasons, individuals need to be careful in filling out paperwork applying for benefits like these. Specifically, the law states that a person is guilty of theft if he or she purposely obtains someone else's property by doing one of the following:
Creates or reinforces a false impression, for example those which pertain to law, value, intention, state of mind, etc., including someone who is soliciting or collecting funds for a charitable purpose;
Prevents someone else from acquiring information which would affect that person's judgment of a transaction; or
Fails to correct a false impression which was previously created or reinforced, where he or she knows that this impression is influencing another in such a way as to promote a fiduciary or confidential relationship.
There are a variety of welfare-related actions that are covered under the statute, including but not limited to failing to properly report income, applying for benefits under another name, fraudulently claiming dependents, receiving benefits in several states, and using a false, identity, amongst others.
New Jersey Criminal Defense Attorney
Being convicted of welfare crimes in New Jersey carries stiff penalties, including jail time and steep fines. It also permanently affects your record and can serve as a disability for the rest of your life.
If this has happened to you, we can help. Phillip J. Murphy has more than 25 years experience representing individuals accused of crimes in Bergen County and surrounding areas. We can help you avoid the severe consequences associated with convictions like these so that you can move on and rebuild your life and reputation. Contact us today for a free consultation and we can begin assisting you.
Resource:
usatoday.com/story/news/nation-now/2017/06/28/new-jersey-arrests-welfare-fraud-investigation/435144001/