New Jersey Man Sold Three Fake Tom Brady Super Bowl Rings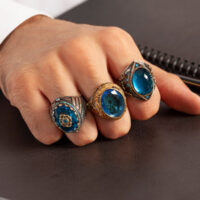 For football fans, a Super Bowl ring is one of the most sought-after pieces of memorabilia. Some fans would do just about anything to get their hands on one of these items – and that's exactly what one fraudster was counting on. After posing as a former Patriots player, a New Jersey man has scammed a number of people, convincing them to buy Super Bowl rings that he fraudulently obtained. This is a stunning example of fraud in New Jersey, and it should serve as a cautionary tale.
But what happens if you are charged with this type of fraud? What are the legal consequences? Will you go to jail? These questions are best left answered by a legal professional, such as a qualified defense attorney in New Jersey. If you're facing fraud charges, you need to get in touch with one of these lawyers as soon as possible. Working with an experienced attorney is the best way to avoid needlessly excessive penalties for fraud.
How Did This New Jersey Man Get His Hands on Super Bowl Rings? 
On December 20th, it was reported that a 24-year-old individual from New Jersey was facing considerable legal consequences after fraudulently obtaining and then selling three Super Bowl Championship rings from New England's 2016 victory. He allegedly posed as a former player of the Patriots and obtained three "family versions" of the rings. First, he purchased a Super Bowl Ring from a legitimate Patriots player and paid this player with a bad check. Next, he turned around and sold the ring for $63,000 to a broker.
This individual then discovered that he could purchase more Super Bowl rings by posing as this former player and requesting "family versions" of the rings. He called the Ring Company and ordered three rings with the name "Brady" engraved on them. He soon found several buyers and sold the rings to an auction house for $100,000. One ring reportedly sold for $337,000. He was able to pay for these rings with three fraudulent wire transfers.
As a result of these incredible acts, the individual is facing a wide range of charges, including identity theft and fraud. These charges could theoretically result in more than 90 years behind bars. The Justice Department has revealed that he could face a total of 92 years in prison, but his real sentence should be much less severe when the federal judge looks at this case. The individual has agreed to pay restitution to the former Patriots player that was involved in this mess.
Enlist the Help of a Qualified Attorney Today 
For help fighting your charges, reach out to skilled New Jersey criminal attorney Phillip J. Murphy. Over the years, we have helped numerous defendants with a wide range of criminal charges, including fraud, traffic tickets, violent crimes, and much more. With our help, you can approach this difficult situation in the most efficient manner possible while striving for the best outcome. Book your consultation today, and we can immediately get started on an effective defense strategy.
whdh.com/news/nj-man-accused-of-posing-a-patriots-player-to-get-sell-versions-of-tom-bradys-super-bowl-rings/