New Jersey Township Considers Making Sale Of Guns And Ammunition Illegal In Some Areas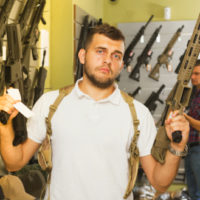 One New Jersey Township–Piscataway–is considering passing an ordinance that would make it illegal to sell ammunition or firearms within 1,000 feet of "sensitive" locations, including bars, college campuses, daycare centers, medical facilities, parks, places of worship, schools, and similar locations. Local leaders have noted that it is part of an effort to take things into their own hands in the absence of stringent federal and state leadership.
Passing such an ordinance might not be difficult, given that there currently are no businesses selling these products within this particular township. The council already unanimously approved it and it is expected that the ordinance will be adopted in June of this year.
Although similar ordinances in other areas of the country have already been upheld in federal court as not violating the Second Amendment, gun rights activists have since filed a writ of certiorari seeking review from the U.S. Supreme Court. Six bills have also been introduced in the New Jersey Senate that are designed to strengthen the state's existing gun laws.
Current Gun Laws in New Jersey
It is true that New Jersey's existing gun laws are among the most restrictive in the country. They include the following requirements and prohibitions:
Anyone purchasing a handgun must have a permit (which is only valid for 90 days), and anyone purchasing a long gun must have a firearms purchaser identification card. Only one handgun can be purchased within a 30-day period;
A lifetime purchaser identification card is required to purchase handgun ammunition, rifles, and shotguns;
All purchase permits/identification cards are granted on a shall-issue basis;
De facto mandatory handgun registration is required for handguns purchased in New Jersey;
Any and all purchases of handguns in New Jersey must be from a private resident or NJ-licensed dealer. If purchased from a dealer, a NICS background check in required;
Carry permits are extremely difficult to get, and applicants must not only go into extreme detail regarding why they have an urgent necessity for self-protection, but their applications must be approved by the township's police and a judge. For this reason, NJ is known as a "no issue state" unless you are a retired law officer;
Law enforcement frowns upon open carry of long guns except when individuals are hunting;
Localities have a good amount of freedom in terms of any more restrictive ordinances they pass that are preempted by state law;
Magazines are limited to 15 rounds for semi-automatic firearms and six rounds for semi-automatic shotguns; and
Destructive devices, short barreled rifles and shotguns, and suppressors are prohibited.
New Jersey Criminal Defense Representation to Fight Weapons Charges
If you have been accused of a weapons charge in New Jersey, you should speak with an experienced criminal defense attorney right away. Contact the office of Phillip J. Murphy today for a free consultation; we serve clients in and around Bergen County.
Resource:
usatoday.com/story/news/nation-now/2018/05/10/new-jersey-township-ban-gun-sales-sensitive-areas/598020002/