New Report Sheds Alarming Light On Increasing Use Of Guilty Pleas & Decreasing Jury Trials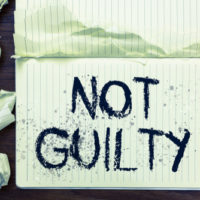 According to a new report published by the National Association of Criminal Defense Lawyers, jury trials have been decreasing significantly to the point where they now occur in fewer than three percent of all state and federal criminal cases.
This has raised a number of criminal justice-related concerns, as jury trials are ever-increasingly being replaced by guilty pleas in virtually all cases, where more and more people accused of crimes are facing exponentially higher sentences if they invoke their Sixth Amendment right to a speedy and public trial by an impartial jury.
The Scales of Justice Have Tipped, and It Affects Everyone
This also reportedly leaves defense attorneys largely negotiating guilty pleas rather than working to ensure that criminal defendants' rights are protected and that law enforcement and prosecutors "respect the boundaries of the law," as well as judges largely hearing plea bargains rather than deciding on the constitutional and legal aspects of the case and police conduct. What's even more potentially concerning is the amount of evidence indicating that defendants are being coerced to plead guilty because it is simply too risky to exercise their constitutional rights, including the right to challenge unlawfully procured evidence and the right to appeal issues that not only impact their case, but the circumstances surrounding the rights of all U.S. citizens, at large.
Plea bargains have long been presented as an efficient alternative that eases stress on the justice system, while also affording those accused of crimes an opportunity to start down the path to rehabilitation earlier. However, reliance upon them must be balanced with other options to ensure fairness in the criminal justice system such that innocent people are not coerced into pleading guilty to crimes they did not commit simply because the pressure to avoid going to trial is so strong. In this way, the "scales of justice" have truly tipped, leaving many defense attorneys in the position of explaining to an innocent client that they should seriously consider pleading guilty, or risk ruining the rest of their lives and those of their family members.
A Path Forward?
The report offers a number of recommendations to improve the criminal justice system and this issue of increasing guilty pleas and decreasing jury trials, including:
Eliminating mandatory minimum sentences;
Requiring plea-bargaining conference; and
Ensuring judicial "second looks," whereby courts review lengthy sentences on a regular basis to ensure that sentences are proportionate over time.
Contact an Experienced Criminal Defense Attorney
You should never be coerced into entering a guilty plea. Your attorney should, instead, do what is best for you as an individual, as well as your family, and protect your rights throughout the process of representing you. Contact the office of Phillip J. Murphy today to find out more—we serve clients throughout New Jersey and New York.
Resource:
thecrimereport.org/2018/07/11/defense-lawyers-decry-disappearance-of-jury-trials/