New York Continues To Struggle With Gun Issues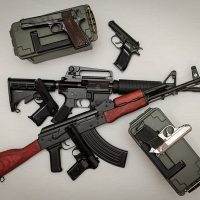 For many years, New York has had a reputation for being one of the most restrictive states in the nation when it comes to firearms. That reputation is only becoming more firmly established with new legislation passed recently. In the midst of all of this, people are being arrested for gun trafficking, possessing firearms without proper licenses, and other similar offenses. Firearm offenses can be incredibly serious in New York, and even a relatively minor oversight can result in severe penalties.
Gun Traffickers Charged After Selling 50 Illegal Firearms 
On January 11th, the Justice Department revealed that they had taken down a serious gun trafficking organization within New York, charging four criminals with seven different charges. Many of the defendants were also charged with various drug offenses. According to the report, these defendants sold their illegal firearms "in broad daylight" straight out of their vehicles in Brooklyn. One transaction took place across the street from a church, while another took place a few blocks away from a preschool and grade school. Many of these weapons were so-called "ghost guns" with defaced serial numbers. This made them difficult for law enforcement officials to trace. Many of the weapons sold were apparently used in murders and other crimes throughout Brooklyn, including a shooting of a family gathering that left people with gunshot wounds.
Singer Arrested for Illegal Gun Possession in New York 
On January 6th, it was reported that a singer for the band "Cage the Elephant" had been arrested in New York for gun possession. Police discovered two loaded firearms in his hotel room. These law enforcement officials were called to his room due to a 9-11 call for an unknown reason. It is unknown whether these weapons were legally obtained. It might have been that the singer was simply unaware of New York's restrictive gun laws, which make it illegal to carry firearms outside of your primary residence in some situations. The singer might have also been required to get permission from the hotel owner in order to bring the firearms inside.
What Are New York's New Gun Laws? 
New York's newest gun laws have been controversial to say the least. On January 11th, it was reported that the Supreme Court had decided to allow New York to uphold its newest gun laws despite serious objections from various Second Amendment groups and concerned gun owners.
The new laws require people to prove that they have "good moral character" before obtaining a gun license. In addition, guns are now banned in most public locations. Finally, guns are banned on private property unless permission is granted by property owners.
Where Can I Find a Reliable Criminal Defense Attorney in New York? 
If you've been searching for a qualified, experienced New York criminal defense attorney, look no further than Phillip J. Murphy, Attorney at Law. We know that New York's gun laws can seem extremely restrictive at times, and it's all too easy to stray on the wrong side of legality. With our assistance, you can approach any legal issues in a confident, efficient manner. Book a consultation today, and we can assess your unique situation before recommending the best possible defense strategy.
Sources: 
nytimes.com/2023/01/11/us/new-york-gun-law-supreme-court.html
justice.gov/usao-edny/pr/four-gun-traffickers-charged-selling-over-50-firearms-brooklyn