New Yorkers Face Penalties For Political Crimes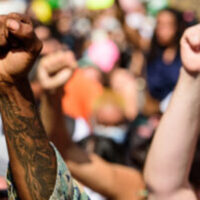 It's no secret that we live in an incredibly divisive and polarized nation. The political divide is stronger than ever before, and this is leading both sides to extreme acts. Regardless of how strongly you may feel about politics in the United States, it's always important to stay on the right side of the law. Threatening politicians and participating in riots can result in serious legal consequences. Instead of breaking the law, you should strive to make your voice heard through legal, nonviolent means.
If you are facing charges related to your political views, you should get in touch with a qualified, experienced criminal defense attorney in New York as soon as possible. In some cases, you may be able to mitigate potential legal consequences by fighting for your constitutional rights. For example, Americans are guaranteed the right to protest and the right to free speech. This could form the foundation of your legal defense. Get in touch with a qualified attorney as soon as possible if you're facing charges in New York, and you explore your legal options.
Queens Man Faces Consequences for Threatening Politicians 
Today, many people take to social media to voice their political views. But as one recent case shows, you need to be very careful about what you say when making your posts. One man from Queens is now facing a long stint in prison for threatening to kill a member of Congress. On December 16th, the Justice Department revealed that an individual had been sentenced to 33 months in prison for transmitting threats to injure others.
This individual threatened the life of Senator Raphael Warnock on multiple occasions through social media posts. He also spoke about committing other acts of violence in Washington, D.C during the protests that followed the 2020 election. This individual is just one of many individuals who are now facing criminal consequences for posting these online threats and speaking about taking part in the protests at Washington, D.C.
New Yorker Pleads Guilty to Conspiracy and Obstruction 
On December 22nd, the Justice Department revealed that a man from New York had pleaded guilty to crimes related to the Washington, D.C. protests in 2020 – becoming one of the first defendants in this case to do so. This individual pleaded guilty to one count of conspiracy and one count of obstruction of an official proceeding at the U.S. District Court for the District of Columbia. It is worth mentioning that as of this writing, the other individuals in this case have pleaded not guilty to charges.
Enlist the Help of a Qualified Attorney Today 
Skilled New York criminal attorney Phillip J. Murphy is prepared to help you fight your charges. Over the years, we have helped defendants who have faced all kinds of different charges. With the right approach, you can tackle this difficult situation in the most efficient manner possible. Book your consultation today, and we can help you fight for your rights as an American.
Source:
justice.gov/usao-edny/pr/queens-man-sentenced-33-months-prison-posting-threats-kill-member-congress-and