New York's New Muffler Laws: Was This Really Necessary?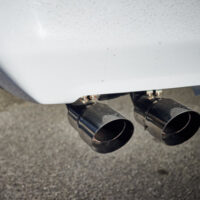 Governor Kathy Hochul has signed new legislation that would increase penalties for "excessively noisy" mufflers and exhaust systems. Already, critics have started to question the necessity of this law. Some have even called it poorly written. In the end, could this prove to be just another excuse for police to pull innocent, law-abiding motorists over? We all know that New York is famous for handing out traffic tickets left, right, and center. So is this just another money grab?
If you are facing charges or fines for any kind of auto accessory or upgrade, it's important to consult with a qualified, experienced criminal defense attorney as soon as possible. Something as simple as a noisy muffler could potentially lead to considerable fines and penalties. You may even lose your license if you have a past history of violations. A qualified attorney can help you fight for your rights and avoid unnecessary penalties.
The New Legislation Explained 
On October 29th, it was reported that Governor Hochul had signed new legislation that would "increase penalties against motorists and repair shops that illegally modify mufflers and exhaust systems to make them excessively noisy." The Governor claimed that these acts were associated with "aggressive driving," and that they pose a risk to "community health, safety, and comfort."
Previously, installing an illegal muffler would result in a fine of $150. With this new law passed, that fine has been raised to a staggering $1,000. The legislation also makes a vague reference to "inspection stations" that will specifically inspect motorcycles for illegally modified mufflers and exhaust systems.
Auto shops that install these illegal mufflers also face much stricter penalties. If you are caught installing illegal mufflers three times within 18 months, you lose your operating license. This will essentially cause your business to shut down.
Problems with the Bill 
Some critics have pointed out major issues with this bill. First of all, it does not take into account that many vehicles come off the factory assembly line with loud mufflers and exhaust systems already installed by default. Those who purchase these vehicles and drive around New York would face no legal consequences under this bill, since no secondary installation of equipment actually takes place. This makes the bill fairly inconsistent and somewhat ineffective.
In addition, it seems as though the new law doesn't actually forbid anyone from using an aftermarket muffler on a motorcycle. It is only illegal to install this illegal equipment. Finally, many people are concerned that this is more about increasing New York's revenue than safety. This bill will also almost certainly disproportionately impact low-income and minority neighborhoods.
Enlist the Help of a Qualified Attorney Today 
For help with your case, reach out to New York criminal attorney Phillip J. Murphy. With our help, you can defend your right to personalize and upgrade your vehicle. Auto enthusiasts shouldn't face unnecessarily harsh penalties for enjoying their cars, but unfortunately, it seems as though Governor Hochul has decided to crack down on a relatively meaningless issue. Book your consultation today, and we can develop an effective defense strategy together.
Source:
governor.ny.gov/news/governor-hochul-signs-legislation-cracking-down-noisy-illegal-mufflers-and-exhaust-systems