NYPD Under Investigation for Violent Arrest of Black Man Smoking Marijuana Joint After Decriminalization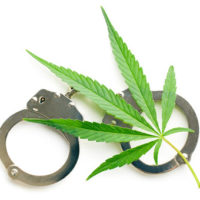 One Wednesday evening in March was a very difficult one for a New York citizen who was what many consider to be the victim of police misconduct for smoking a joint of marijuana (even though possessing less than two ounces of marijuana has been decriminalized In the state of New York). Specifically, a viral video of his brutal arrest shows eight officers tackling the young man to the ground even though he did not resist arrest, whereby they proceeded to repeatedly kick and punch him. The NYPD has now ordered an internal investigation to look into the police officers' handling of the incident.
Given that the classification of marijuana has been completely changed in New York, at this point, the question ultimately becomes: Why was the young man stopped in the first place? What kind of reasonable suspicion even gave rise to this particular stop and frisk, as the New York police were specifically instructed to stop arresting people for marijuana possession almost two years ago? Of course,  this is not the first time that the NYPD's stop and frisk tactics have come under scrutiny and involved innocent people being stopped in the streets without any reason to be suspected of wrongdoing.
Police Officers Still Have Too Much Discretion To Engage In Racial Profiling, Even With Marijuana Arrests
Although the police claim that they stopped and searched this particular young man because they saw him smoking a joint in the park, the answer to the question of why he was targeted for possessing such a small amount of marijuana after possessing less than two ounces was decriminalized anyway is, arguably, racial profiling. According to the statistics, 92 percent of New Yorkers arrested for possession last year were people of color, even though white New Yorkers are almost twice as likely to have reported smoking marijuana as black residents. In other words, the rule to avoid arresting people appears to only apply to white people. This young man, for example, was charged with misdemeanors and a violation – obstruction of governmental administration, resisting arrest, and violation of unlawful possession of marijuana – even though he was not actually resisting arrest. The state law reduces the penalty for possession of less than one ounce of marijuana (a joint is approximately .32 ounces) to a $50 fine, regardless of one's criminal record).
Did New York's Decriminalization Bill Go Far Enough?
It is also clear that the 2019 decriminalization bill that passed in New York did not go far enough and provides too much discretion to those officers who decide to promote their own individual racially biased policing. Hundreds of thousands of black men have been arrested for simple possession; where even low level convictions have led to life-changing collateral consequences; resulting in minor marijuana charges having devastating effects on communities of color. In contrast, the officers involved, although under investigation, have not had their duty status altered.
Contact New York Criminal Drug Crimes Defense Attorney Phillip J. Murphy
The incident also highlights that there is still a significant amount of confusion as to what is and is not legal in terms of marijuana in New York, as the young man can be heard asking in the video "What crime did I commit?" and "What did I do?
If you are facing drug charges in New York or have any questions about your rights, contact New York criminal defense attorney Phillip J. Murphy today for a free consultation. We represent clients in Orange, Rockland, and Westchester Counties, and surrounding areas.
Resource:
nydailynews.com/opinion/ny-oped-the-real-reefer-madness-remains-our-marijuana-enforcement-poli-20200310-57uysqwc5vhybjljjs3a4bybzi-story.html
archive.nytimes.com/www.nytimes.com/interactive/2013/08/12/nyregion/stop-and-frisk-decision.html
cnn.com/2020/03/07/us/nypd-internal-investigation-of-arrest/index.html
https://www.phillipmurphylawyer.com/fate-of-marijuana-decriminalization-in-new-york-remains-unclear-even-as-gov-cuomo-releases-plan/