Penalties For Dodging Taxes With Cryptocurrencies In New York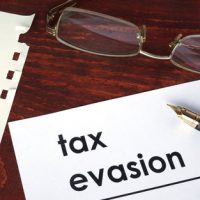 People have been trying to avoid taxes since the practice first began. It was only a matter of time before people started using cryptocurrency to pay less taxes, conceal their incomes, and take full advantage of blockchain's anonymity. But what happens if you get caught doing this in New York? What kinds of consequences could you face? What are the specific laws against this, and how do you defend yourself against charges? Let's find out:
Bruno Block Pleads Guilty to Tax Crimes in New York 
A recent example shows how seriously the State of New York takes tax aversion schemes that involve cryptocurrency. On April 6th, the Justice Department reported that the famous crypto entrepreneur "Bruno Block" had pleaded guilty to tax offenses. Bruno is best known for founding the "Oyster Pearl" cryptocurrency. He eventually minted and sold his own Pearl crypto in secret, causing the price of all other Pearl tokens to plummet. He then failed to declare this on his tax returns, apparently causing a loss of over $5.5 million.
This issue was probably brought to the attention of the authorities due to the way he completely betrayed Pearl investors. If he hadn't done this, the tax aversion might have gone under the radar. Speaking about the incident, US Attorney Damian Williams stated:
"Amir Elmaani violated the duty he owed to pay taxes on millions of dollars of cryptocurrency profits.  As he admitted, he also violated the trust of investors in the cryptocurrency he founded.  Our Office will continue to bring groundbreaking cases, like this one, to ensure participants in cryptocurrency markets play by the rules."
The issue here is that the number of Pearl tokens was supposed to be finite and fixed. When Bruno simply minted his own tokens, he changed the supply/demand dynamic. This exit scheme allowed him to essentially take everyone's money and run. He then filed a false tax return in 2017 that stated he had earned just $15,000 in income. During 2018, he spent over $10 million on yachts, real estate, and other purchases.
In the end, he pleaded guilty to one count of filing a false tax return and one count of failing to file a tax return in 2018. This could put him in prison for up to four years.
Non-Reporting Makes Crypto a Popular Tax Aversion Tool 
But how exactly does one use crypto to avoid taxes? Generally, it comes down to a lack of reporting on exchanges and other platforms. There is an inherent level of anonymity associated with crypto, and the IRS cannot tax people on income that was never documented. That being said, it's not all that difficult to connect the dots if you draw their attention in other ways – perhaps by carrying out fraudulent or negligent actions.
Where Can I Find a Qualified, Experienced Criminal Defense Attorney in New York? 
If you've been searching for a qualified, experienced New York criminal defense attorney who can help you with these types of charges, look no further than Phillip J. Murphy, Attorney at Law. We know that there is a fine line between tax avoidance and tax aversion, and it's sometimes easy to cross this line without fully realizing it. Book your consultation today to get started with an effective defense strategy and fight for your rights.
Sources: 
justice.gov/usao-sdny/pr/cryptocurrency-founder-bruno-block-pleads-guilty-tax-crimes
cnbc.com/2021/05/31/cryptocurrency-poses-a-significant-risk-of-tax-evasion.html