Penalties For Horse Doping In New Jersey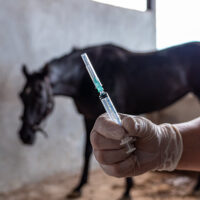 Horse racing is one of the most popular pastimes for people in New Jersey. Unfortunately, we are now discovering that it is also one of the most corrupt activities in the state. The ongoing controversy around horse doping has shocked horse racing enthusiasts around the world, and many high-profile individuals are now facing charges. If you are involved in this industry, you should be aware of the penalties for horse doping. If you're not careful, you could face significant criminal charges.
If you've been accused of horse doping in New Jersey, you should get in touch with a qualified, experienced criminal defense attorney as soon as possible. With help from one of these lawyers, you can fight for your rights and avoid needlessly excessive penalties. It's best to connect with a lawyer right away. The sooner you book your consultation, the sooner you can start exploring effective defense strategies.
Horse Doping Laws Today 
Back in 2020, Congress signed the Horseracing Integrity and Safety Act. This set of laws were put in place to crack down on horse doping across the nation, and it specifically included a ban on race-day doping. In addition, it created a new set of standardized rules that apply to the entire horse racing industry across the United States. These laws are now enforced by the U.S. Anti-Doping Agency. This new bill came after a series of disturbing horse deaths, with hundreds of animals lost within the space of just a few years.
What Happens if You Violate These Laws? 
But can you actually go to jail for violating the Horseracing Integrity and Safety Act? Judging by recent developments in the industry, this is certainly a possibility. On March 3rd of 2022, a harness trainer named Christopher Oakes was officially sentenced to three years in prison for felony adulteration charges. He was also accused of abusing animals through the use of performance enhancing drugs.
This case was closely tied to that of Marcos Zulueta, who received a sentence of 33 months in prison after pleading guilty to drug adulteration and misbranding. He also pleaded guilty to fraud.
Zulueta worked with Oakes and another individual named Jorge Navarro to medicate horses with dangerous drugs that posed a risk not only to the animals, but also to the jockeys who were riding them. Navarro, known as the "Juice Man" in the underground world of horse doping, was sentenced to five years. Others have also faced charges, such as Seth Fishman, who was convicted in Manhattan for drug adulteration and misbranding after distributing and creating performance enhancing horse drugs for about 20 years.
Enlist the Help of a Qualified Attorney Today 
For help with your case, reach out to skilled New Jersey criminal defense lawyer Phillip J. Murphy. Over the years, we have helped numerous defendants deal with a wide range of criminal charges. With our help, you can mitigate any potential penalties you might be facing and fight for your rights in an effective, confident manner. Book your consultation today.
Source:
thecoastnews.com/congress-passes-new-law-to-ban-horse-doping-on-race-day/