Penalties For Ransomware Attacks In New York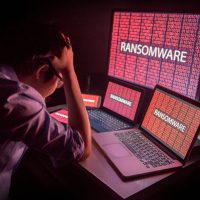 While ransomware attacks clearly reached their peak in 2022, the threat is still present for companies across New York and the rest of the nation. If you commit these cybercrimes, you can expect very serious penalties. Not only are law enforcement officials becoming more adept at detecting these offenses, but they are also more likely to send clear messages with strict sentences, including years behind bars. But what exactly are the penalties for ransomware attacks in New York?
Tech Worker Sentenced to Six Years for Ransomware Attack on His Own Company 
On May 10th, the Justice Department announced that a tech worker in New York had been sentenced to six years in prison for carrying out a ransomware attack on his own company. Back in 2020, the defendant apparently stole the company's data and then claimed to be working to fix the issue. He then extorted the company, receiving $2 million in exchange for returning the files and highlighting the vulnerability that had allowed him to carry out the attack.
The employee then went one step further, posing as an anonymous whistleblower and contacting the media about the situation. He helped to publicize the company's poor handling of the situation, leading to $4 billion in losses as the company's stock tanked. Previously, this individual had pleaded guilty to damaging a protected computer, wire fraud, and making false statements to the FBI.
US Attorney Damian Williams stressed that this worker was earning a high six-figure income each year at the company, giving him little reason to carry out this attack:
"Nickolas Sharp was paid close to a quarter million dollars a year to help keep his employer safe.  He abused that trust by stealing a massive amount of sensitive data, attempting to implicate innocent employees in his attack, extorting his employer for ransom, obstructing law enforcement, and spreading false news stories that harmed the company and anyone who invested into the company.  Sharp now faces serious penalties for his callous crimes." 
The individual may have become disgruntled with his employer for some reason, as he was in the process of interviewing for another job when he carried out the attack. This should serve as a dire warning for any employee who wants to "get revenge" on their bosses before quitting, as these actions can quickly backfire – leading to serious legal consequences.
Where Can I Find a Qualified Criminal Defense Lawyer in New York? 
If you've been searching for a qualified, experienced New York criminal defense lawyer, look no further than Phillip J. Murphy, Attorney at Law. Over the years, we have assisted numerous defendants in the Empire State – and we know how serious cybercrimes can be. With our help, you can fight for your rights and pursue the best possible results. A solid defense strategy is closer than you think – so book your consultation today to get started.
Source: 
justice.gov/usao-sdny/pr/former-employee-technology-company-sentenced-six-years-prison-stealing-confidential